If you want to see the Recap of our 1st week in Paradise (and I use that term
very
loosely),
click
HERE
.
If you want to see Week 2, click
HERE
.
On to Week 3!
We haven't talked about the intro yet, but I couldn't love it more if I tried.
*
We kick off the episode with Clare not being able to breathe.
And when I say that nobody seems to care, nobody seems to care.
Harrison musters up all of his feels to talk her off a ledge, tell her that she can't leave, and convince her to hold her chin up and get her head in the game love quest.


Clare, for the record, we didn't believe for 1 second that you were going to leave.
It's your 3rd season with this franchise.
You're going to stay, and you're going to be back next season too.
*
#virgininabottle pipes in and accuses Clare of being dramatic.
POT, MEET KETTLE.
*
Clare gives JJ her rose.
Meatball goes home.
Jonathon goes home (maybe you shouldn't have worn that vest buddy).
Michael goes home (maybe you shouldn't have called her "Elevenly" pal).
*
It's like 130 degrees and humid as heck in Paradise.
Doesn't anybody have oil blotting paper and some nice matte powder?!?
*
Samantha arrives on the island next (like we didn't see that coming a mile away).
She is a TOTAL babe.
Seriously.
She's HOT.
And she seems really sweet.
SEEMS.
*
Samantha picks Joe for her date after being on the island for approximately 2.3 seconds.
And we learn that Juelia and Samantha were BFFs in the house on Prince Farming's season.
#ruhroh
#ofcoursetheywere
*
WHAT THE HECK IS WRONG WITH THE BEACH IN PARADISE?
WHY IS IT BLACK?
WHY IS IT STAINING THEIR FEET?
The bottom of Juelia's feet look like she's been walking through a NY subway station for weeks without a shower.
*
Samantha and Kentucky Joe's date is a photo shoot for People magazine's HOT BODS edition.
I have several thoughts.
1) Samantha is a total babe.
Did I say that already?
2)
The pictures are hot.
3)
I feel uncomfortable.
4)
Like I REALLY feel uncomfortable.
5)
If I was participating in this photo shoot, I would look like a wet dog.
*
Back at the beach, Joshua needs a higher SPF.
*
At Jared's urging (he's like the head camp counselor), Joe heads over to talk it out with Juelia.
He asks her to go talk by saying "Where you want to go at?".
Joe.
I already didn't like you, and now you are ending your sentences in a preposition.
#you'redeadtome
#thatwasthelaststraw
*
Dr. Hunt is getting cold feet.
He is starting to realize that My Name is Carly It's Nice To Meet You is PRIME TIME in love with him, and he's not sure he's feeling it.
#codeblue
Here she's all, let's call my brother and tell him how much I love you, and that I want to marry you, and that I want to have your babies.


For some unknown reason, after about 23 seconds of sheer panic, Dr. Hunt changes his mind and decides that she's perfect for him.
*
Jorge the bartender is a breath of fresh air.
*
Ashley S. is falling HARD for Dan.
Dan is starting to question his feelings.
*
Megan arrives wearing a "sobrero" and saying "aloha".
She is maybe more than a little challenged.
But there's no denying that she's fun to watch.


*
No matter how DARLING a romper is from the front….
it's rarely as precious from the back.
#romperbutt
*
The raccoon joke is getting old.
This is how I feel about it.


*
Joe and Samantha are SUCKING FACE in the pool.
And if that wasn't enough to evoke my gag reflex, some other shenanigans start going on.
We don't really know what is happening, but we hear Joe whisper to "keep doing that".
#ew
#bah-chicka-wowwow
ABC, have you NO SHAME?
I hope an intern just wrote "bleach the hot tub" on his TO DO list.
*
Dan confronts Joe and urges him to go talk to Juelia.
I would like to confront Joe and urge him to take off his American flag swim trunks, because NO.
They go talk to Juelia.
With every single word that comes out Joe's mouth, I think I can speak on behalf of everybody when I say that we hate him more and more.
He is so condescending that it makes me BANANAS!


Juelia however is handling things pretty dang well. She's not crying like crazy…She's not yelling….She's not punching him in the throat…She's keeping a level head on asking questions. Questions that deserve answers.
Sadly, Joe doesn't have any answers.
He just has 1 and 2 word responses that don't make any sense.
She needs to put back on that helmet from last season, because THIS is like
banging her head against a wall.
#youcan'targuewithcrazy
*
Samantha shows up at the meeting of the minds (which means the producers were all "HEAD UP TO THE CABANA NOW SAMANTHA! HURRY!), and Juelia and Samantha go off together to talk. I think ol Kentucky' Joe might have pooped his pants a bit seeing them walk off together.
Here's hoping Samantha really listens.
Again, she seems like a great girl that has a level head on her shoulders.
SEEMS.
*
Dan pulls Ashley aside and says he's noticed "differences in their personalities".
Translation: Ashley apparently showed her CRAY cards to Dan at some
point and HE WANTS OUT.
*
Night 2 opens with Sam getting the full story from Juelia about Joe.
But as Juelia is talking, Samantha shuts her down.
Like in a TOTAL B MOVE KIND OF WAY, she totally shuts her down.
And then Samantha says that she's "on Cloud 9" with Joe.
She totally laughs Juelia's feelings off, gives the impression that she thinks Juelia is being ridiculous, and says she is "above the drama".
And I all of a sudden feel like they SAM and JOE are a match made in heaven.
#theydeserveeachother
#idon'teventhinkshe'shotanymore


*
Then Amber shows up in paradise. I don't remember Amber at all, but Ashley S. LOVES her.
Amber walks in, immediately chooses Dan for her date, and admits she was really hoping that he was going to be there.
WHATEVER! NOBODY even knows who Dan is!


And Ashley crashes and burns.
*
Megan and JJ go on a jet skiing date.
And she makes a lot of sexual innuendos.
And I make a lot of gagging sounds and my eyeballs almost break from all the rolling.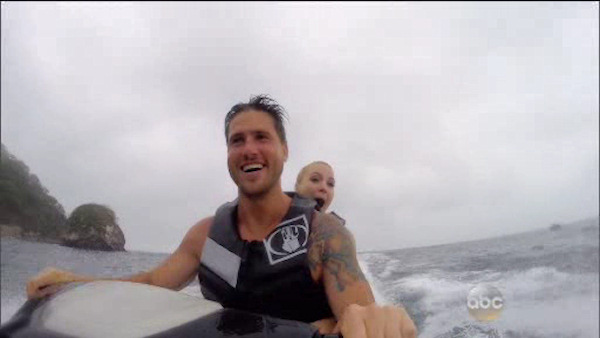 *
Amber and Dan go on their date.
The seem to like each other.

Ashley is back at the compound, and I think she's off her meds.
Even though she had managed to reign in her crazy the first 2 weeks, the jig is up.
Homegirl is still crazy
.
#thankheavens
#imissedhercrazy
*
Back at the cabana, the poop hits the fan.
We all find out (per Joe) that in fact the cast members in paradise submit lists to the producers of people they would like to meet.
Which explains how they all are "looking forward" to meting certain people.
EVERYTHING is orchestrated here in Paradise.
*
Jared and Tanner again try to strong arm Joe into just freaking admitting that he and Samantha had a "thing" before Paradise.
Joe will not budge.
Samantha pushes everybody out of the room (except Joe) saying that she needs to change clothes. But Silly Samantha doesn't close the door all the way which means THE CAMERA PEOPLE KEEP ROLLING. Awesome.
So Samantha is basically telling Joe that they need to get their stories straight and he needs to stop acting so defensive.
Right about then she notices the cameras. Which was hysterical.
Let this be a lesson to you kids…
Oh what a tangled web you weave, when first we practice to deceive.
*
Joe and JJ get in each other's faces.
And it looks like that next week things are going to GO DOWN.
And I'm more than a little excited about it.
And the QUOTE OF THE NIGHT goes to JJ when talking about Joe.
I'm going to make him look like the hillbilly he is.
-JJ


*
NEXT WEEK IS GOING TO BE EPIC!
I JUST KNOW IT!
—————————————————————————————————–
So in addition to the Paradise recap today, you are also going to get to to see a fun mood board for your home! Y'all know I love Nordstrom for clothes (and free shipping and returns), but they also have a great home department with a surprisingly large selection. When they asked me to talk about furnishing a small space with items from their home section, I thought it would be a lot of fun!
And then I started trying to make a mood board for a bedroom, and I realized it would be WAY MORE FUN if I recruited my friend Lindsay at Whimsy Girl Design to create the board for me.
Lindsay and I were Kappas together at OU, she has a super popular ig design feed (over 100,000 followers!!!), and she happens to just be dang good at what she does.
I texted her, asked her to create a board for me, and she came up with the cutest room!
Here's Lindsay's design, with all pieces from Nordstrom!
1. large heart framed canvas / 2. side table / 3. dip dye poof / 4. small rug /
5. pendant light / 6. reversible duvet set / 7. gold pillow /
8. do not disturb sign / 9. the hub ladder / 10. plush throw / 11. straw basket
Isn't the room DARLING?
Get the Look For Yourself by clicking on the pictures you are interested in:

The basket has to be my favorite piece. I picture it next to a bed filled with magazines….or on top of a fireplace hearth filled with a couple of cozy blankets (or even filled with firewood!).
I love the overall simplicity of the navy duvet (but the pin tuck detailing kicks it up several notches!), and I think lots of you could use it as the jumping off point in a room. I love how Lindsay designed the room with navy, coral, and gold….but think how many other colors you could use with the navy.
I happen to love Kelly green with navy as well!
If you would like to work with Lindsay on a room in your home, you can e-mail her directly at whimsy.girl@yahoo.com
Here are some other bedding sets and home items from Nordstrom's VAST home collection!


You can also find things for the bath HERE, organization HERE, and campus essentials HERE.
And if you want to see what they have to offer for personalized gifts, click HERE!
Thank you Nordstrom for sponsoring the SMALL SPACES portion of this post.
See you back here on Friday for the Pinterest Told Me To BIRTHDAY CELEBRATION and a really fun GIVEAWAY honoring all of you girls!
xoxo,
Sheaffer 🙂
p.s.
I know we talked about this idea a couple of weeks ago, BUT HOW CUTE ARE THESE CARDS that my friend Andrea whipped up! I'm DYING!!!!
(Thanks to the readers who had the idea for the cute sayings!)
Click HERE for the $8 earrings (and remember there is HOT PINK as well)!
Let's all show our kiddos' teachers how much we appreciate them! You know, just a little gift to help them get through the first crazy week with our crazy kids!
smile emoticoI have the light pink earrings on the card, but remember there is also a HOT PINK option
And great news! I've attached the printable version! Right click on the card you want to use, click "save as", print it out on card stock, cut it out, and you're ready to go! There's room at the bottom of the card for your child to sign his/her name! And if you don't have time to order them to be given the first day of school, I think giving them any time during the first 2 weeks would be just fine!
Make sure you girls come back here on Friday for the Pinterest Told Me To BIRTHDAY CELEBRATION and GIVEAWAY!
It's gonna be good!
xoxo,
Sheaffer 🙂