Okay Girls!
Bachelor in Paradise started this week, and it was on FOR 4 HOURS!
FOUR. HOURS.
Like TWO HUNDRED AND FORTY MINUTES.
ABC.
Why are you doing this to me?
WHYYYYYYYYYYYYYYYYYYYYYYYYYYYYYYY?
So, here's what I've decided to do.
I had planned on recapping the show
UNTIL
I found out it was on 2 days per week, and did I mention FOUR HOURS.
But when I put it out there that I might not do recaps, people were up in arms. 🙂
(Which I have to admit, was nice to hear! Thank you!)
So, I've decided to do something different for the Paradise crew.
I'm simply going to bullet point some highlights from each episode.
Recapping 4 hours a week might have put me in an early grave…but bullet points?
Bullet points I can handle!
Andrea
and I are working on naming this little series, and working titles include:
"Oh No She DIH-UNT" and "CRAZY TRAIN" .
We haven't come up with anything that we love yet, so feel free to leave ideas in the comments!
So far we've seen bikinis, boob jobs, shirtless men, LOTS of alcohol, bird love, too many emotional breakdowns to count, a sneezing fit, and an ambulance ride.
Buckle up girls and get your antibacterial sanitizer ready.
If the previews are any indication, we're going to be bathing in that stuff and possibly gargling it by mid-season.
LET'S! GET! STARTED!
*
Harrison must be suffering from some type of skin condition. Why else would he be wearing a long sleeve button down and chinos IN PARADISE?
#comeonharrison
#showmesomeleg
*
One of the first to the island was #virgininabottle.
And she brought her sister who seems to be the opposite of wholesome.
We shall call her #permiscuousinabottle .
(There were several other nicknames that I tossed around, but my parents read here, so I refrained.)
#keepingitclassy
Harrison informs everybody that if one sister gets a rose, the other one will get a rose by default.
#packagedeal.
Plain and simple, these siblings are T.V. GOLD.
Can you imagine the parents of these two having to watch this all season long?
God Bless 'em.
*
Some guy I don't remember shows up, tells everybody he is an Alpha male, and then tells the guys he can get hem in shape in no time. He takes off his shirt almost immediately, and my eyes rolled so far back into my head I'm not sure if I'll ever be the same. Tanner called him a meathead, but for some reason I thought he called him a meatball. Which made me lol. So, we shall call this one Meatball.

*
One guy needs to immediately stop calling girls "delicious".
Just stop.

*
I'm pretty sure Ashley is playing all of us.
#andiloveher
*
*
Other cast members arrive and I find myself wondering who is going to be wiggling by week's end.
Harrison shows up and basically says if you aren't wiggling with somebody, you'll probably be sent home. Yes, I paraphrased, but that's essentially what he said.
HOW IS THIS ON T.V.?
WHY DO WE WATCH?
*
In an attempt to prove that Bachelor in Paradise can in fact lead to finding love, Marcus and Lacy (from last season), get married on the beach in front of a small crowd: 80% made up of scantily clad Paradise cast members and like 20% family members.
*
Seriously though.
Marcus seemed a bit confused. But I'm thinking he might have been suffering the effects of a heat stroke.
#medic
*
My name is Carly, it's Nice To Meet You promises to bring some hilarious one liners this season. I'm certain that I'm going to continue to love this girl.
But I'm just as certain that she needs to reconsider her smokey eye in the island heat.
*
#virgininabottle and Jared go on a date.
And although this is just implied, I'm quite sure she's already picked out their
wedding colors and china.
*
Jade and Tanner go on a date. He thinks it's cool beans that she was in Playboy.
*
My Name is Carly It's Nice To Meet You and Dr. Hunt are basically boyfriend/girlfriend.
*
#virgininabottle needs some mood stabilizers STAT.
Between crying fits, she said "I am the pickiest princess alive, but I have to hold out for my Aladdin."
Um yeah, good luck with that.
And by the way, she is AND I QUOTE "wearing her Jasmine bikini" here.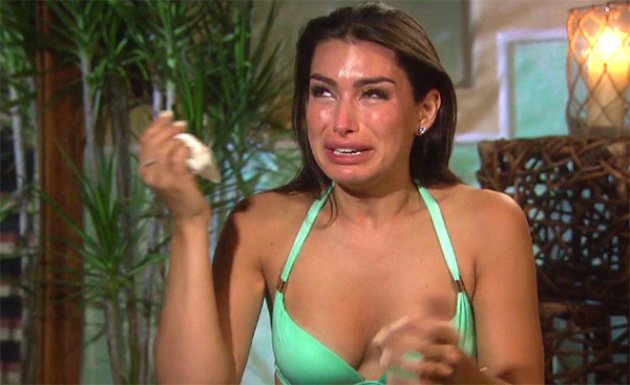 *
#crazyeyesashley gets carted off in an ambulance, but we have no idea why.
And if you think you're ever going to find out why, then you're sorely mistaken.
*
Meatball shows an interest in Claire, and since everybody else seems to already be paired off, she asks him on her first date.
And they go to tantric yoga.
#ican'teven
But I did lol when she said "OMG, I'm going to have to rub privies (pronounced pry-veez) with Mikey on a first date." Meatball is totally into Claire. Claire is not yet feeling Meatball.
*
Paradise is crawling with crabs.
And I think we're kidding ourselves if we think these are the only crabs around.

*
#crazyeyesashley gets the date card and takes Dan, her male nurse.
They are totally digging each other.
*
Tenley is seen talking to Jared, and this sends #virgininabottle into a tail spin.
She proclaims to her sister that she will die "old and alone".
And with each passing second I'm thinking that it's a real possibility BECAUSE GET A HOLD OF YOURSELF PRINCESS.
She tells Jared that she likes him, thinks he's really cute, and she tries to claim him as her own.
And although he basically tells her he wants to keep his options open, she doesn't seem to really hear him.This is what she thinks he says sings to her:
I can show you the world. Shining, Shimmering Splendid.
You get the idea.
(Sidenote: if you are less worried about her mortality and more interested in her stack
bracelets, go HERE.)


*
Tenley throws her pride out the window and kisses JJ.
Anything to NOT get kicked off first, huh Tenley?
She even called him adorable.
What the What?
JJ may be a lot of things, but adorable would not be an adjective at the top of my list.
I will tell you this, every time I see Tenley I find myself hoping against all hope that she will perform another interpretive dance like she did for ol' Pavelka.
#fingerscrossed
*
JJ gives his rose to Tenley, which means Jillian is going home this week.
And she's taking her new boobs with her.
So that's it for my Bachelor in Paradise commentary this week!
Remember to leave comments with ideas for names of the Paradise recaps series!
Before you go, I know it's been ALL NORDSTROM ALL THE TIME for 3 weeks, so I thought it was time to mix it up with some great finds from a couple of my other favorite stores:
Anthropologie and Old Navy!
I popped in to Anthro because I was looking for a special and unique top for an upcoming event I'm getting ready for (more details on that later)….and Anthro is always the place to go when looking for unique and special!
This dolman sleeve top really surprised me. I was immediately drawn to the pattern, but the shape of it scared me. I thought there was NO WAY it could be flattering. One of the salesgirls working the floor saw me pick it up, look it over, and then place it back on the rack. She urged me to try it on and said that so many people loved it. Well, she was right!
Click HERE for the top.
For size reference, I'm wearing an x-small, so I suggesting sizing down.
exact earrings / similar white ankle jeans ON SALE / similar sandals by same maker/ watch
I thought this next top was so sweet.
It's expensive, but it's gorgeous.
Click HERE for the floral top.
For size reference, I'm wearing a small, so I think it's true to size.
It has a gathered elastic band at the bottom that can either be worn down or tucked under.
I liked it with my white jeans, but I think it would look great with basic blue jeans too. And if you picked up a pair of grey jeans during the anniversary sale, I think it would look great with those as well!
exact earrings / similar white ankle jeans ON SALE / similar sandals by same maker/ watch
This next top was recommended to me by a different girl on the floor. I almost passed it by because the material made it seem so dressy. Well, she urged me to try it on, and I'm so glad she did! From the material, to the unique color combination, to the cut, to the detailing on the back (see online picture)….I loved everything about this top.
Click HERE for the top. Click HERE for the necklace.
For size reference, I'm wearing a 4 in the top, so I think it's true so size.
exact earrings / similar white ankle jeans ON SALE / similar sandals by same maker/ watch
*****************
OLD NAVY is having quite the sale (that ends today)!
GAP is too.
I bought plenty of stuff for myself at the Anniversary Sale, so this sale was about getting new basics for Carter (I got him 5 pairs of pants, 3 shirts, a pack of underwear, and a pair of slip on tennis shoes for Under $100!)
Get 25% OFF of ALL purchases, get 30% OFF if you spend $75, and get 40% OFF if you spend $100 or more.
My favorite military jacket is back in stock (found HERE)!!!
For size reference, I'm wearing a petite small.
I shopped the sale for Carter (bought TONS of stuff) and threw THIS navy gingham popover in my cart (far right on the top row) before I even knew what I was doing.
*************************
I spotted this next bag when shopping the Anniversary Sale, but since it wasn't part of the sale, I didn't want to talk about it yet.
It's affordable (under $100!), and it would be a great fall bag.
If you are one of those that is hesitant to mix black and brown, this bag takes all of the guess work out of it! And OH MY WORD at the studs.
It's a great size, and I really like that you can zip the top to keep it closed.
Love.
Adore.
Clic HERE for the bag.
And please, feel free to "ooh" and "ah"
See you ladies back here on Friday for Friday Favorites!