So that's Lisa on the right.
And that's me on the left.
I might have had 1 too many mambo taxis in this picture. Allegedly.
😉
You probably haven't heard me talk about Lisa a lot because since she doesn't have a blog, I'm not able to link to her…but she's one of my besties!
Actually, she's the one who introduced me to Shay, Erika, Andrea and others years ago when we I joined their Bible Study.
Lisa and I met 9 years ago in McKinney ISD during orientation for being Speech Therapists.
We were both new to McKinney (we had just moved over the summer), and I remember looking at her sitting across the room and thinking, "she looks cute and sweet, maybe we can be friends!"
We hit it off immediately.
We spent 4 years together pre-kids, our hubbies are friends too, and we had a blast!
Lots of shopping. Lots of mexican food.
And here we are….9 years and 3 kids later (she has two precious girls)….and still best of friends!
I love me some Lisa Jones.
I had Carter in September of 2008, and Lisa had Blakely in October of 2009.
And I have to say that when Lisa was pregnant, I soooooo hoped she was having a boy.
She was one of
THOSE
people that didn't find out what she was having. 😉
I wanted her to have a little boy so badly so our two could be best friends too!
Little did I know that it wouldn't matter.
Our two were going to be great friends anyway!
I am so thankful for Lisa and her crew!
We have such a great time hanging out together as families, and I just wish we could do it more often.
We are just so blessed by them!
WE LOVE YOU JONES FAMILY!
Now that you have a little background…
I knew that when Nordstrom contacted me to do another 2 part kid's post that I was going to want to include sweet Blakely.
So…I present to you, Part II of Nordstrom Kids' Play Clothes.
(If you're interested in Part I, it's all about the boys. You can see Part 1 HERE with Carter and my nephew Brody!)
Lisa and I met at Nordstrom with the kids last Friday and had a little try-on spree.
And I have to say, they were SO good. They didn't even complain once!
Good kids! 🙂
I had run through and grabbed everything that caught my eye.
We would throw the outfits on the kids, take a couple of pictures, and then just move on to the next outfit! It was actually a lot of fun.
OUTFIT #1
My favorite part of this first collage is definitely Blakely's sweet dress.
Blakely's dress HERE / similar sandals HERE with AMAZING reviews / similar bow HERE
Carter's shirt HERE / Carter's shorts HERE / Carter's shoes HERE
Click what you're interested in within the following collage!
Isn't the dress the cutest?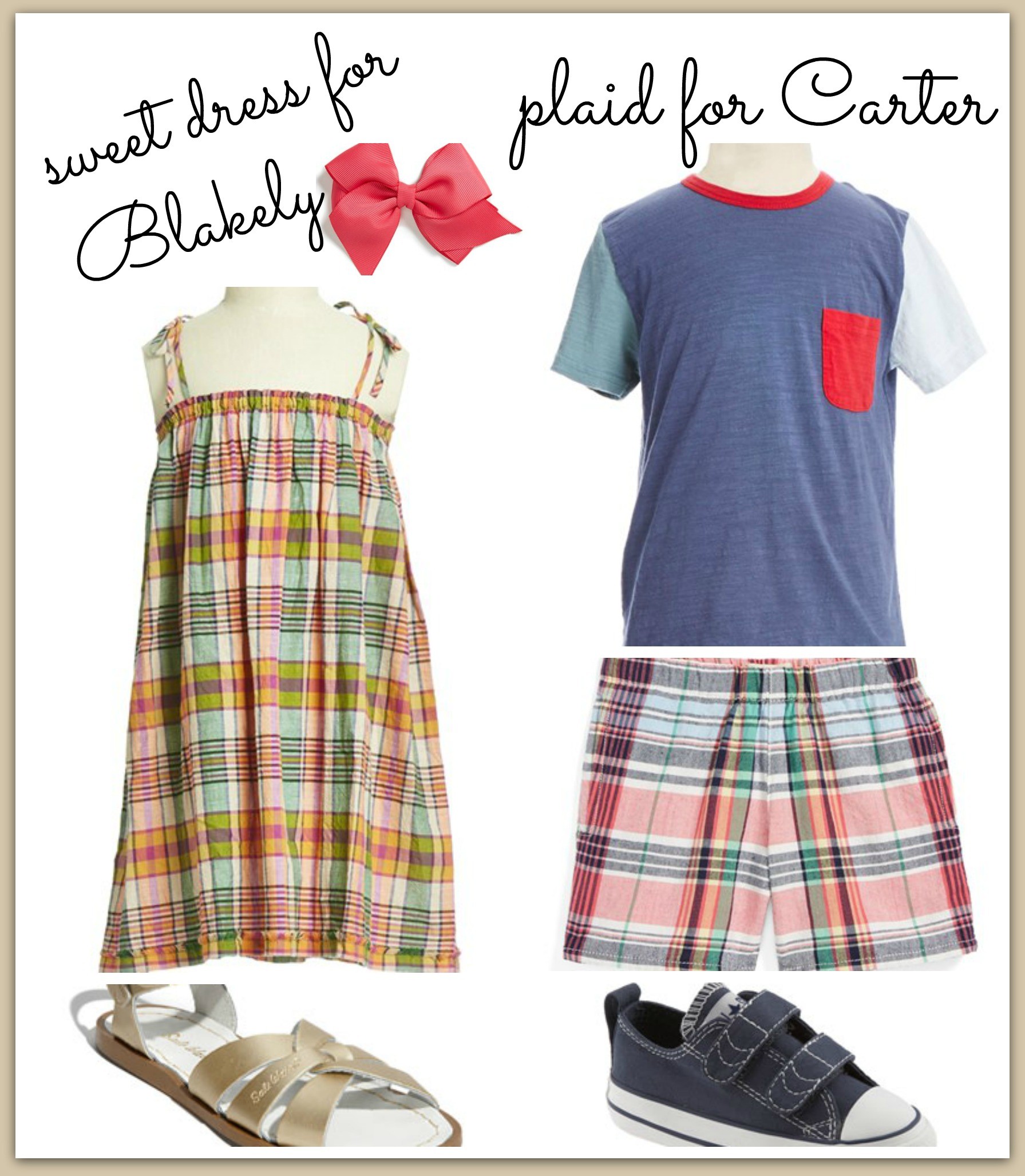 OUTFIT #2
How cute are they in this next pic trying to pose?!?
I just ordered my first romper (hopefully it will arrive today), but I have always loved rompers on little girls. The stripes on this one are too cute, and I think it goes perfectly with the sparkly crocs!
Blakely's romper HERE / Blakely's sparkly crocs HERE / similar bow HERE
Carter's shark shirt HERE / Carter's shorts HERE / Carter's shoes HERE
Carter was a big fan of the shark shirt!
I have two words for Blakely here.
WORK. IT.
Right after this she also walked down the aisle and did a spoon move. If you can't tell, Miss B has a little bit of sass in her, and I love it!!!
I mean, check out her pointed toe!
She is just too stinkin' cute!
Click what you're interested in within the collage!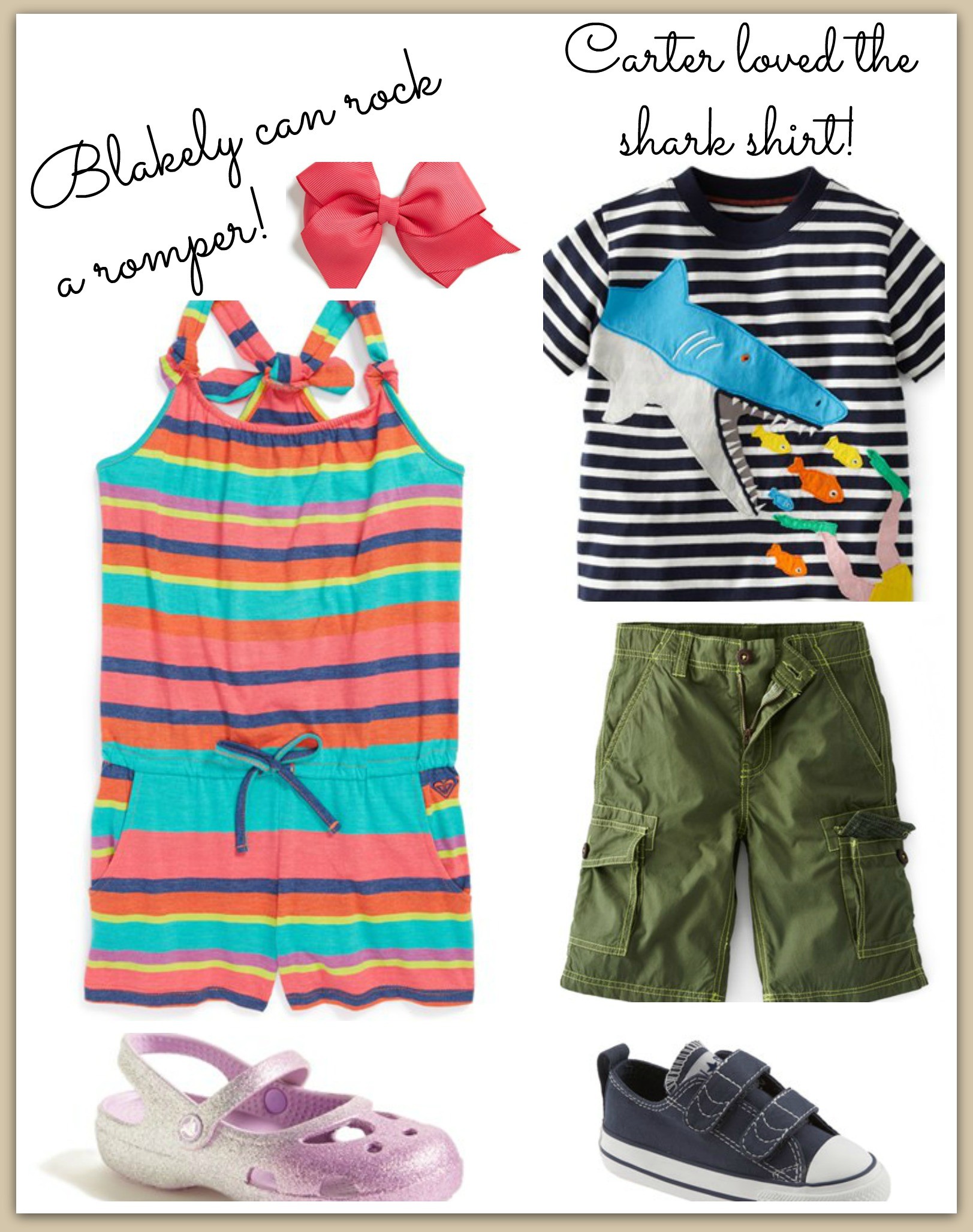 OUTFIT #3
I absolutely love this precious strawberry shirt on Blakely. So cute!
Carter's shirt HERE / Carter's shorts HERE / Carter's shoes HERE
Click what you're interested in within the collage!
Both Carter's and Blakely's shirts aren't just printed. They have dimension which makes them so much cuter!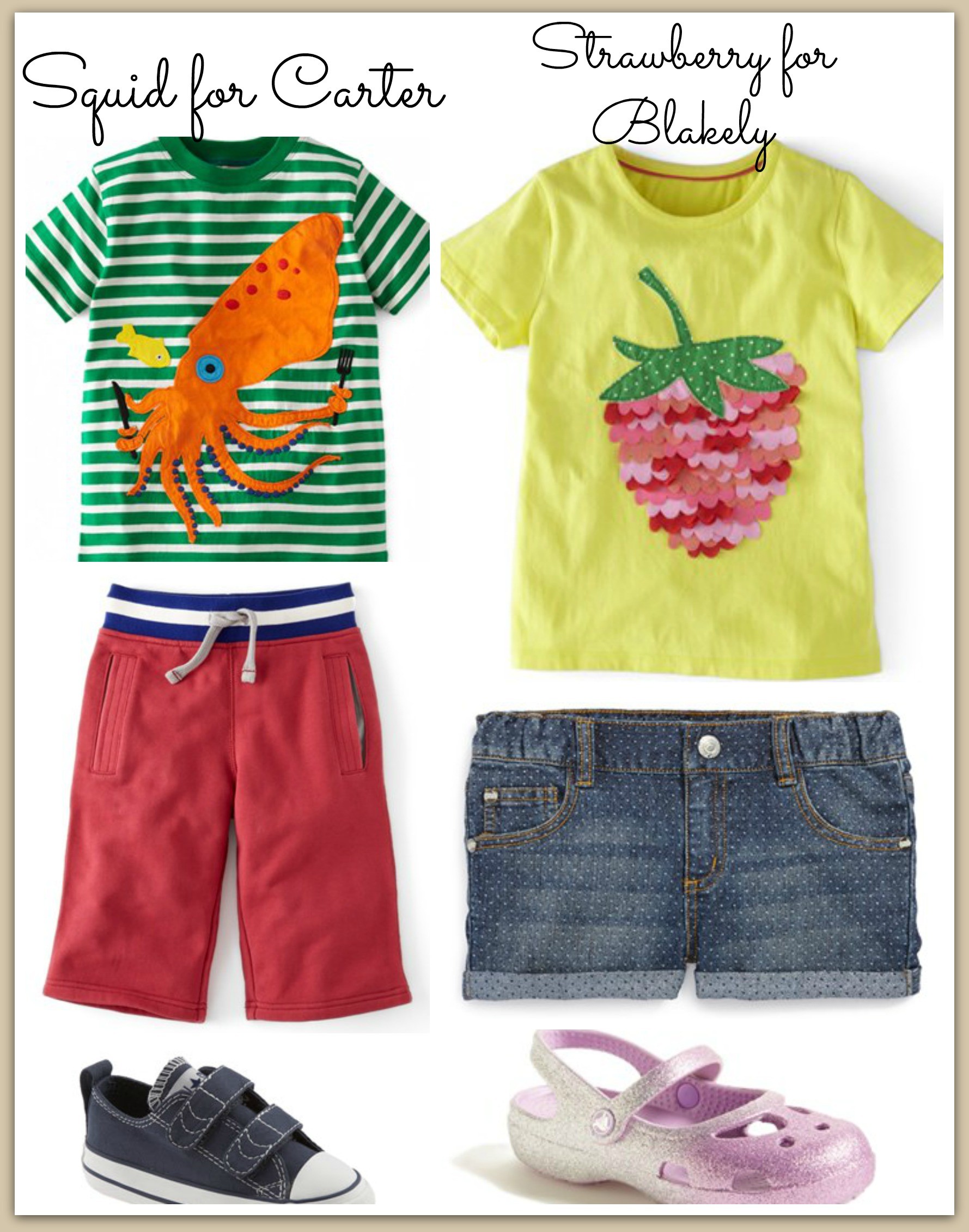 OUTFIT #4
Carter's shirt similar HERE (couldn't find the sunglasses tee) / Carter's shorts HERE /
Carter's shoes HERE
Blakely's shirt HERE / Blakely's shorts HERE / Blakely's sparkly silver TOMS HERE
Click what you're interested in within the collage!
I really can't say enough about THESE shoes for Carter. He adores them. I'm definitely going to be getting a 2nd color for him. They're the best!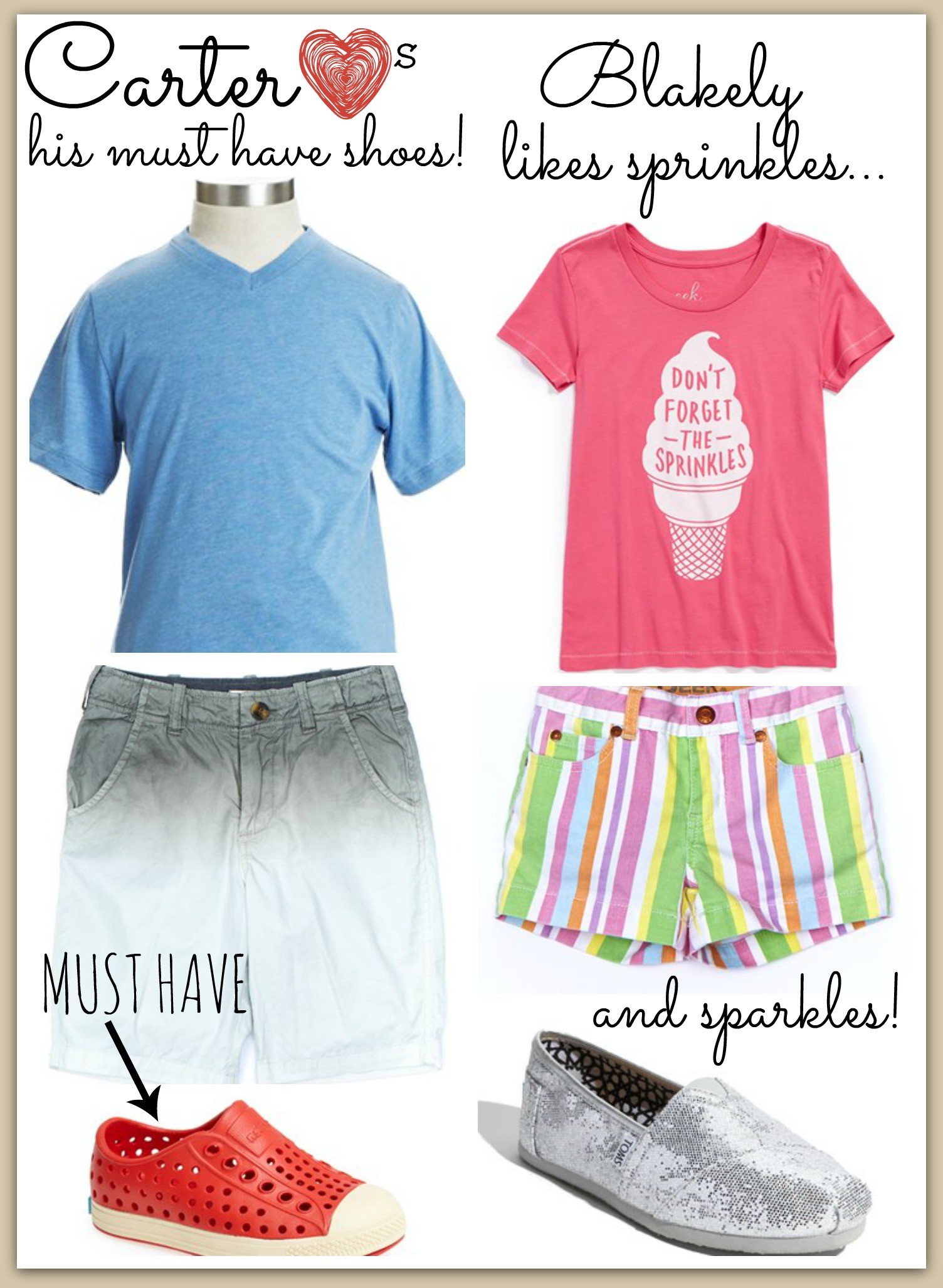 So, what do you think that they got?
They both got their outfits from collage #2!
Blakely left with the ROMPER and the SPARKLY PURPLE CROCS.
Carter left with the green BODEN SHORTS and SHARK TEE (he already had the CONVERSE ).
Nordstrom also has some really cute kid's pjs.
Boy's pajamas can be found HERE.
Girl's pajamas can be found HERE.
After we left Nordstrom we headed to the food court to meet Erika, Andrea, and
Narci and their kids!
All of the mamas had the Brisky Business tacos from Tin Star.
Shay was in Boston with Kensington and so she hasn't had the chance to try the new taco yet.
HOLY TACO SHAY.
Flour Tortilla. Yummy Brisket. White Cheese. Green Onions. Crispy Potatoes.
I know it sounds kind of crazy, but TRUST.
After eating we headed to the play area, and then we headed to the Lego store.
Here are some of the kids on their way to the Lego store.
SO SWEET.
All of the kids and all of the mamas had such fun!
Before we go today, I thought I would share some other pics of Carter and Blakely, just for fun!
This was after lunch one day in downtown McKinney.
And here they are one of the last times we were at the ranch.
And one of my very favorite pictures OF ALL TIMES.
Could you just die?
Here we are at the ranch again, and the kids are surveying the cattle.
Yes, it's blown up and hanging in his room.
Thanks again to Nordstrom for sponsoring this post on kid's playwear!
And thank you to Lisa and Blakely for making it happen!
Before you go…..Father's Day is just around the corner….
I didn't put together a huge gift guide this year, but I do have just a handful of ideas below.
No surprise here, but I think shopping at Nordstrom for Father's Day is the easiest way to go.
But you might have a guy that is more of a Best Buy guy or Cabella's guy, and that's fine too….
It's just not as easy! 🙂
My guy's favorite things in his closet are his Northface Jackets HERE (I think he's collected 4 over the years) and his Brook's running shoes HERE (although he's not a runner). They just provide really good support. When he broke part of his foot last year the podiatrist recommended them.
My father-in-law is a golfer, and if one of the men in your life is, you can click HERE for golf gifts.
My dad is the hardest to buy for of all, and to be honest, we typically get him foodie type stuff like specialty salsa, stuffed garlic, cream cheese spreads, or wine.
Sadly, Nordstrom doesn't carry food.
My goodness it would make my life easier if I could shop for groceries online at Nordstrom. 🙂
All right!
That's it for today girls!
You're going to want to make sure you come back tomorrow.
Shay and I have partnered up for a GINORMOUS giveaway that you are not going to want to miss!