It's Friday, so y'all know what that means! It's time to link up with Erika and Andrea to let everybody know what some of my favorite things are right now.
**********
HACKING UPDATE
Yes, I'm still hacked. 🙁
Yes, we are still working hard to gain control back.
**********
VUORI TEE AND SHORTS
I'm so excited about these first pieces. Y'all need to get excited too!
This tee is one I already own in black. It's a great tee and it launders perfectly. It's super comfy and soft, and it has 4 way stretch and moisture wicking technology. It's very roomy with a relaxed fit all over and drop shoulders. It also has UPF 30+ sun protection! I love this marsala color, but it also comes in white, black, and heathered grey. For size reference, I'm wearing a medium.
vuori tee / dash shorts / sneakers
Let's talk about the running shorts. I LOVE THEM. They are very comfy and really flattering, and I love how lightweight they are. But I'm going to be honest, they're never going to get to live up to their full potential because the most activity they will ever see is a brisk walk. I wear a small in the MUST HAVE joggers, but I didn't want these too tight or too short so I ordered a medium. I'm glad I did because I'm in love with the fit.
Also, I think the sneakers still hold the #1 spot for my favorite find so far of 2023! Because they have a bungee cord, you can slip them on and off without worrying about tying or untying laces, and this particular color combo is so fresh and cute. I wear them constantly, and I receive compliments from strangers just about every time I wear them. True to size for me!
vuori tee / dash shorts / sneakers
**********
MY SWEATER
On my Wayfair WAY DAY post yesterday, I was wearing this adorable sweater. I had some questions about it, and you can find it HERE. And you can use the code STMT10 for 10% OFF! (Also, I'm not sure if the wood cheese board is still going to be on sale, but if it is, you should grab it now!)
If you've been looking for an adorable sweater with a little something extra, LOOK NO FURTHER!
I'm dying over these sleeves. They're like a beautiful watercolor, and the double ruffle highlights the design and colors beautifully. The body of the sweater is white, but there is an orange accent on the neckline and on the banded sweater hem. For size reference, I'm wearing a medium. It is very generously sized (and a bit wide), so I think I need the small.
The shorts are stretchy, comfy, and soft. And they might look like LINEN, but they aren't. (Listen, linen is a beautiful fabric, but it doesn't always feel great against your skin. These shorts aren't linen, and they feel great on!)
They also come in a light olive and a rust! For size reference, I'm wearing a 4.
ruffle sleeve sweater / paper bag shorts / earrings / brushed gold bracelet stack / similar cross necklace / TB soft Miller sandals
**********
MORE SUPER AFFORDABLE FINDS
This top arrived yesterday, I immediately tried it on, and then I immediately took pics so I could share it with y'all today. This is one of those items that will sell out FOR SURE, so I'm telling you now that you need this top. Seriously, you need it in at least 1 color.
The material is lightweight and gauzy, perfect for a hot summer day! It's got a square neck, flutter sleeves, and a relaxed fit. It also comes in navy, pink, and a lilac and aqua stripe (sound weird, but it's super cute!). For size reference, I'm wearing a small. It's great with denim shorts, but it will look great with white denim too.
And y'all aren't going to believe this, but it's only $16!
square neck top / denim shorts / rattan hoop earrings / straw bag / sandals
I thought you might appreciate a closer look at the neckline. So cute!
square neck top / denim shorts / rattan hoop earrings / straw bag / sandals
This peplum tee comes in 4 colors, but I was drawn to this gorgeous "orchid bloom". It's a relaxed fit, and the cute little peplum hem is adorable. And it's perfect for those of you that don't like to do a half tuck. Without any thought, this tee just styles itself! For size reference, I'm wearing a medium.
These denim shorts are cute, soft, AND OH SO COMFY. They have a functional zipper and button….BUT GET THIS…..there's elastic across the back of the waistband. Yep, they're basically like toddler shorts. And they're awesome.  If you fully tuck in shirts, then these shorts aren't going to be for you because the elastic waistband isn't cute. But since I only 1/2 tuck shirts, nobody will ever see the waistband. I'll just benefit from the comfort! For size reference, I'm wearing a medium.
peplum tee / denim shorts / rattan hoop earrings / straw bag / sandals
I also have a couple pairs of pajamas for you! Do y'all remember the plaid pajamas I became obsessed with around Christmas? Well, these are from the same brand and I'm obsessed with them too.
They feel like Soma pajamas, but they are a fraction of the price!
I think the stripes are adorable as are the little flutter sleeves. For size reference, I'm wearing a small.
For those of you that prefer to not wear pants to bed, this nightgown would be an excellent choice. It has the same tiny little ruffle sleeve as the set above, and it's made of the same super soft and cooling fabric. For size reference, I'm wearing a small.
**********
COLLEEN ROTHSCHILD MOTHER'S DAY GOODIES
If you're a regular reader of my blog, you know I'm one of Colleen Rothschild's most loyal fans. HER PRODUCTS WORK.
I swear by sooooo many of her products, I recommend them to all of my friends and family (and y'all!), and I think Mother's Day is an excellent reason to either introduce your mom to these products or indulge her obsession.
Lucky us, THERE'S A MOTHER'S DAY SALE going on right now!
I give a Colleen Rothschild product to my mom for almost every gift giving occasion, so I was happy to see there are some really fabulous products on sale right now. Click HERE to see everything in the sale. Today I'm highlighting the lip care trio, the hand cream, and the new hair kit.
Last year my mom told me that her hair had lost its shine and had become lifeless. A direct quote is that her "hair had become old". Her words, not mine. 😉
I told her she needed to give the CR hair products a try, so she did, and her hair was transformed! The Quench and Shine Trial and Travel Essentials set would allow your or your mom to try everything in the CR hair treatment arsenal. My mom absolutely swears that the hair care products have restored her hair. This entire kit is ONLY $56 right now (it's over a $110 value, and regularly priced at $75).
The 6-pc kit contains…
Quench & Shine Restorative Shampoo, 100 mL (3.3 fl oz)
Replenish & Shine Daily Conditioner, 100 mL (3.3 fl oz)
Quench & Shine  Restorative Mask, 50 mL (1.7 fl oz)
Smooth & Shine Hair Serum, 30 mL (1 fl oz)
Protect & Perfect Styling Cream, 30 mL (1 fl oz)
Scalp Massager
Limited Edition CR Voyager Case
And just fyi, The Discovery Kit is also part of the Mother's Day promotion and it's a PERFECT introduction to many of the star skin care products in the line ($150 worth of products, regularly $95, but on sale right now for $69).
Quench and Shine Trial and Travel Essentials Set
Quench and Shine Trial and Travel Essentials Set
The Kiss and Tell Lip Care Trio also makes an excellent gift. All 3 lip products come individually packaged with the bigger box on the left, and the beautiful green velvet pouch is inlcuded as well.
Good things come in threes. KISS & TELL LIP CARE TRIO is all you need to leave lips smooth, treated, moisturized and kissable. This mouth-watering Brown Sugar trio includes Butter Lip Mask, Sugar Lip Scrub, and Vitamin E Lip Moisturizer.
These lip products are luxurious and anybody who uses them will feel pampered and have ultra soft and hydrated lips!
And what mom do you know that wouldn't love a high-end hand cream? Colleen's Restorative Hand Cream is on sale for only $18 right now!
If you want to see what else is in the sale, click HERE!
**********
SUMMER IS COMIN', SO IT'S TIME
SUMMER IS COMING, Y'ALL! AND I AM PUMPED! I'm doing ALL THE THINGS TO PREPARE.
Step ONE: Get my heels in shape.
I did this foot peel several years ago and was equally ASTONISHED and HORRIFIED at the process. I was FLABBERGASTED with the results. Check out the reviews, but I beg of you, don't be eating when you do. And prepare to squeal with both fear and delight. The pictures are graphic. Haha!
I have no idea what kind of magic and wizardry is involved with this mask, but it reveals baby soft skin. And it doesn't hurt one bit! Just follow the directions and prepare to be in awe.
If you're not sure, check out the over 50,000 5 STAR reviews!
*********************
OUR PLACE SALE
Y'all know that Our Place is one of my favorite brands, and thre is a 25% OFF SITE WIDE SALE going on right now!
I have and love so many of their products, but their Oven Pan has easily become my MOST USED piece.
The Oven Pan is so much fancier and so much prettier than my old sheet pans. My old sheet pans used to bend and pop when cooking. And let's be honest, they looked terrible. Most of mine were like 20 years old and have had food or rust stains on them for years and never looked clean. I no longer need those pans!
Cleanup is a breeze with the non-stick surface and I love that it's beautiful enough to serve in. I certainly couldn't serve from any of my other pans. And do you see how tall the lip is? It holds so much food and keeps it nicely contained.
It's such a nice upgrade, and I'm absolutely thrilled to have it.
The Oven Pan is made from aluminum which is 3x more conductive than cast iron! WOW! That means it heats up SUPER fast and evenly. Baking cookies with it is next on the agenda for sure.
I just love that the Oven Pan performs so well in the oven AND serves my food so beautifully!
I of course love using the oven pan IN THE OVEN.
But my favorite way to use it is on my burners on my stove.
Pro Tip: The Oven Pan goes from oven-to-stovetop so that you can make an entire hot breakfast on one pan. We didn't have any bacon on this day, but I look forward to putting bacon on it and baking it in the oven. And then once it's cooked through, I'll move the pan to the stovetop to make eggs, hashbrowns, etc.
The eggs cooked beautifully on the pan.
The fact that the Oven Pan functions as both a sheet pan AND a griddle is mind-blowing! You just place it across burners like this and turn one or both burners on (depending on how much you are cooking). I LOVE the surface area on this pan and the fact that I could fry at least 8 eggs on this at one time! OR I could pile it up with eggs, hashbrowns, and bacon!
SERIOUSLY. I need y'all to get this pan, and then we all need to talk about how obsessed we are.
I'm telling you, I use it alllllll the time.
Click HERE to get it for $25 OFF!
**********************
HUGE BEAUTY SALE
There's a HUGE beauty sale going on at Nordstrom right now. If you are out of a makeup product, there's a good chance it's on sale. Click HERE to check it all out! And you can obviously search the product you need in the search bar to see if it's included! Even the hugely popular and viral Dior Lip Oil is included!
**********************
MOTHER'S DAY GIFT IDEAS
I've rounded up some great gift ideas for mom, and I own (AND LOVE) many of the items seen in the collage. I can personally vouch for #1, #2, #3, #4, #6, #9, and #12!  Below the collage, you can read my thoughts on each item.
1. blardigan / 2. smooth and shine hair serum / 3. Our Place Always pan ON SALE! / 4. body butter / 5. charm necklace / 6. rose gold necklace stand   / 7. aromatherapy diffuser / 8. similar sparkly bracelet / 9. pajama set / 10. charcuterie board / 11. SCOUT tote bag / 12. must have throw
1. blardigan / A blardigan has been and will continue to be on every single gift guide I create for a woman from now until the end of time. It's pricey, but it truly is THE BEST gift to both give a receive. I LOVE GIVING THEM. You get the initial oohs and ahhhhs when they first feel the blardigan, and then you get the follow up texts saying things like "this really is the most amazing thing ever". #yes #iknow  For those of you that are new around here, I gave this piece of clothing the name "blardigan" (about 10 years ago) because it's part blanket, part cardigan. And it's the softest thing you will ever put on your body.  You can wear it out and about, but my favorite way to wear it is cozied up at home.
2) smooth and shine hair serum / I picked a couple of my mom's favorite Colleen Rothschild products for this collage, and she swears by this hair serum, as do I. I can't live without it.
3)  Our Place Always pan / If you missed my full review of the pan, you need to make sure you check it out. My review is super thorough, plus I share two different 1 skillet recipes including skillet enchiladas that are sooooo easy and soooo yummy. And GREAT NEWS! You can still grab this pan for $30 OFF , which is an incredible deal.  I have the "blue salt" (bought it for myself last year) and the "terracotta" (sent to me by the brand for my post), but I also really love the "sage" pan as well.  I bought my mom and my mother-in-law this pan for Christmas, and they both love it!
4) body butter / My sister was struggling on what to get our mom for Christmas last year, so I suggested the body butter. She ended up giving her the honey vanilla body butter and the shower oil, and the woman is OBSESSED. When I asked her how she was liking it, she literally said "I rub it everywhere I can reach. I LOVE IT."  Haha!  The Tahitian Manoi is a great scent for spring and summer.
5) charm necklace / Kendra Scott jewelry is ALWAYS a fantastic option for a Mother's Day gift. This is one of Kendra's newer pieces, and I think it's so beautiful and would go with pretty much anything. Click HERE for gifts $50 and under, click HERE for gifts $75 and under, click HERE for gifts $100 and under.
6) rose gold necklace stand / I own this necklace stand and ADORE it. It helps keep all of my delicate necklaces separated, visible, and easy to grab.  Plus, it's just so dang pretty! This one is from Kendra Scott and the quality is incredible, but if you want one that is more economical, you can find tons to choose from on Amazon.
7. aromatherapy diffuser /  I have 2 diffusers, and although they both work great and we use them daily, they aren't pretty. This is a lovely little diffuser!  You could also include some oils with the gift. You can find a lot of Young Living oils on Amazon, or you could even grab a variety pack (this one has excellent ratings) to get her started!
8) similar sparkly braclet  / You can't go wrong with a sparkly bracelet. The end.
9) pajama set / These pajamas are some of my favorites. I typically buy a new pair every couple of years. They also come in a short version HERE. There are many colors/patterns to choose from.
10) charcuterie board / Charcuterie boards are all the rage right now, but there's definitely a learning curve when creating them. A board like this helps take some of the guess work out of creating a board!
11) SCOUT tote bag / I mean, is there a cuter tote in all the land? If you aren't familiar with SCOUT totes, you can click HERE and choose the bottom thumbnail to watch a video that will give you a solid introduction to this brand. These totes have EXCELLENT reviews and they come in tons of size and color options.
12. must have throw / All of us give these must have throws like crazy as Christmas gifts, but they make great Mother's Day gifts too! (You know how I know that y'all bought them like crazy? They have been in the Top 10 purchased items f0r the last 3 years! I even think they were Top 5 for two of those years.) They are incredibly soft and cozy, they come in a myriad of colors, and they just look great thrown in a basket or over the back of the sofa. I had readers saying they've bought over 10!  Several for themselves and tons for gifts! They launder perfectly and they are super affordable!  (And since it's May, you should know they make fantastic graduation gifts too.)
**********************
Some Amazon Home Favorites
I'm almost positive I've talked about these products before, but even if we have, we are talking about them again today!
Y'all. This 
Thymes Mandarin Coriander countertop spray
is EVERYTHING. It smells so fresh and lovely, and it actually makes me want to wipe down my kitchen counters. And I know this sounds stupid, but I like that the bottle is pretty too. It makes me feel fancy when I'm cleaning. #seriously 🙂
Click HERE for other mandarin coriander products in the line.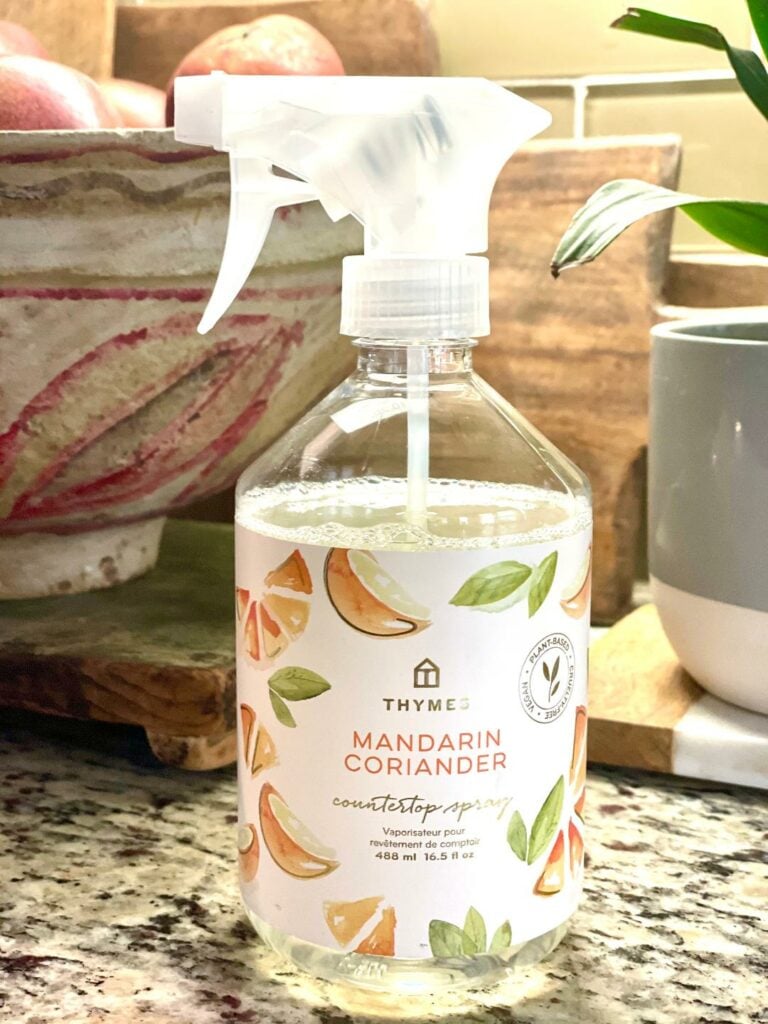 I also ordered this e-cloth variety pack after hearing about them from my friend Cassie. They are washable, reusable, and FABULOUS.
Here's what you need to know about them:
Effective — Instantly equip yourself with all you need for a sparkling home with the E-Cloth Home Cleaning Set. Seven specialized microfiber cleaning and polishing cloths master every mess — all with just water. Additional dusting cloth traps particles ordinary dusters simply push around

Easy — One purchase covers every surface you need to clean — from countertop to stovetop, and windows to tile — and keeps more money in your pocket

Environmental — Cleans with the power of masses of precision-engineered microfibers, plus water's molecular might. No need to add additional cleaners — or worry about residues that could harm people and pets

Eco-savvy — With made-to-last quality backed by our 3-year or 300-wash guarantee, you may never put paper towels or additional cleaners in your shopping cart again

E-Cloth + Water Is Enough — Dampen with water. Leave only water behind. So much simpler, swifter, and savvier, it's hard not to share the news
Do you see the little tags on each cloth? They tell you what each cloth is supposed to be used for (ex. glass, stove tops windows, etc.). We got not kitchen pendants the other day, and Chris was cleaning them with Windex and a paper towel, but he was leaving tons of lint behind. I got out the e-cloth for glass, and it worked like a freaking charm. Shiny as can be and no more lint!
Click HERE for the entire E-CLOTH line. All the cloths remove grease and dirt – with just water. These 8 special cloths work on a variety of surfaces – worktops, appliances, kitchens, bathrooms, windows – and all the rest of the house, even your devices, making them your new partners in grime to remove grease and dirt from all hard surfaces in the home and to leave surfaces streak-free and shining. In between uses, rinse with warm water and hang dry, and machine wash weekly. Seriously, go check out the super comprehensive E-CLOTH page.
**********************
WEEK IN REVIEW
I shared all of these great summer graphic tees on Monday's post.
Head to the post if you want to see me in all of them. I also review 7 pairs of denim shorts!
beach scene tee / Here Comes The Sun tee / Just Peachy tee
Happy Camper tee / Sunshine tee / Bring On The Sunshine tee
denim shorts / MUST HAVE cuffed denim shorts / frayed hem shorts
TB soft Miller sandals / pink sandals / studded sandals
Wednesday's post was a great What's Up Wednesday! I shared all of the below pieces from Social Threads, and you can use the code STMT10 to get 10% OFF all the pieces!
I also highlighted a handful of some of my favorite Amazon beauty items.
The Clarins Depuffing Mask is a new (to me) product that I've been using for a couple of months now. All of the well known beauty influencers absolutely swear by it, so I finally had to try it for myself.
WOWZA.
It's a cream-mousse face mask (the texture is like a thick whip!) that visibly reduces puffiness, refines facial contour and promotes even skin tone.
Suggested Use: Apple 1-2 times per week, as needed to clean, dry skin. Smooth a thick layer over the lower part of face and neck. Avoid eye contours. Leave on for 10 minutes. During the last few minutes, place left elbow in palm of right hand, and rest chin in left palm. Gently move head to the left and completely relax the weight of head in palm for a few seconds. Repeat four times. Then perform the same movements on the right side of face. Rinse with cool water.
And y'all. It works! I'm using it right now about twice a week. The directions say to leave it on for 10 minutes, but when I can, I leave it up for up to an hour. This product does what it says it's going to do.
And depending on where you live, if you order this morning, you could have it by this afternoon!
Click HERE for all Clarins products on Amazon.
Thee next 4 products are products I use either every day or at least every day I wash my hair.
The Kenra Platinum Blow Dry Mist is a product that I simply will not go without. I mist it all over my damp hair before drying it. First of all, it smells AMAZING. It's also a heat protectant, smooths, softens, tames fly-aways, and eliminates frizz. It won't way your hair down either! The reviews are incredible and I have confidence that you'll love it. I started using it years ago after my hair dresser would use it on my hair before blow drying it at the salon. I travel with it because I can absolutely tell a difference in my hair when I don't use it.
The Gimme Hair Brush (I have the thick) is the best hair brush I've ever used. I know what you're thinking; it's just a hairbrush. NOPE. You're wrong. It's an OUSTANDING hair brush. And it's worth every single dang penny of it's $35 price tag.
Every single time dry my hair I use the Revlon Volumizing Brush. It dries my hair quickly, it smooths it as it's drying, and it gives my hair body and volume. And it's ON SALE right now!
Some will think I'm crazy, but I'm a Conair hot roller girl for life. And they are ON SALE! I use these roller picks instead of the clips that come with the roller set, because I feel like the clips crease my hair. They give my hair life and bounce! And I know this is going to sound weird, but my hair seems to be shinier after I roll it. I put the rollers in after I let them cool down just a bit. When I put them in piping hot, I feel like the curl is too tight. I put one on my crown, one on each side, and 2 in the pack.
Kenra Platinum Blow Dry Mist / Gimme Hair Brush (thick) / Revlon Volumizing Brush / Conair hot rollers (and I use these roller picks)
And this is my hair after I've fixed it! It's shiny, bouncy, and looks healthy thanks to the above products and items. ! I also use this hair spray (it's a small can, so I buy 3 at a time) and it has a great flexible hold.
Posh Peanut robe / similar cross necklace
**********************
That's all for today, y'all! Have a wonderful weekend with your people!