Before we get started on The Bachelorette recap today,
GET READY GIRLS,
TOMORROW IS THE BIG DAY FOR ALL OF US NORDSTROM CARDHOLDERS!!!!!!
It's about dang time!
I'm not sure what time the sale is going to go live online (I've actually received different answers from different people), but it's possible it might go live as early as 12:00 a.m. CST.
Or it might not be live until 2:00 a.m. CST.
Whatever you do, check here before you shop.
I'm going to do everything in my power to make shopping the sale as user friendly and fun as possible!
This (in the striped version) is the first thing going in my cart.
THESE necklaces have me intrigued (although I'm not "in" to zodiac signs at all…I just think they are pretty!) and THIS crossbody bag looks like the size I'm looking for.
And that's just the tip of the iceberg.
Remember that last year some of my favorite items weren't even in the catalog!
I've been preparing posts behind the scenes, and I will continue to add to it as I try things on and find things that aren't even in the catalog…because I'm telling you right now, there is A TON of awesome merchandise that didn't make it to the catalog.
But that's the fabulous thing about Nordstrom. With free shipping and free returns, you can make purchases throughout the sale (even the same day) and not be dinged with shipping charges!
Either way, please know that by 6:00 a.m. tomorrow morning, and hopefully MUCH earlier, I will have a new post up with some of my favorites highlighted and linked!
This is what part of my post tomorrow will look like.
Right now the links will connect you to the item's page and it will say "unavailable". That will change for cardholders after the sale goes live, you just have to make sure you sign in to your account.
necklace (link not yet available) / blanket coat (I adore this!) / knee high boots / fringe bag
OKAY.
Let's try to forget about the sale for a second and focus on Bachelorette shenanigans.
HERE WE GO!
Click HERE for all previous episodes if you need to get caught up.
Let's start off with this.
If I don't hear "Nick makes me feel like a woman. A desired woman." EVER
AGAIN, it will be too soon:
#gag
#puke
#dryheave
1:1 Date Card
Who:Peter Brady
What it says: Let's Make Today Unforgettable.
Kaitlyn and Peter meet in a park, hop in a canoe and take a little jaunt over to a private island.
Her mind is other places, but they play hide-n-seek and kissy face among the ruins.
She says "You seem like husband material to me."
Tell us something we don't know Kaitlyn.
Who wouldn't want to bring Peter Brady home to mom?
He says the sweetest things about being a husband, and then she says that her hubby needs to never give up on her. Even when she sleeps with another guy. Just kidding. She didn't say that last part.
But you KNOW that's what she meant because she can't get Nick out of her head.
That night they head to a sofa by a fireplace and cuddle up with some wine.
He makes a toast.
He thanks her for their day and talks about how lucky he feels.
He admits that he LOVED his last girlfriend, but that ended, so he fears he is unlovable.
PETER!!!!
YOU. ARE. CRAZY.
(fyi: I seriously can't even remember what his real name is right now.)
I'm sorry, but that statement just made you even more lovable than you already were!
Now you're up there with baby monkeys in diapers eating out of bottles and puppies!
His ex definitely messed with his head.
But here's the deal, the "I fear that I'm unlovable" line might have just clinched a spot for possible next Bachelor material.
And then they start kissing, and you can tell that he's smiling as they are kissing.
Seriously.
He says "this relationship makes me happier and a better person."
Peter starts talking about the stigma of the overnight dates and that people act like it has to be completely physical, but it's not like that for him. He feels that the physical does not have to be focused on, but that it's a time to just talk all night and get to know each other better.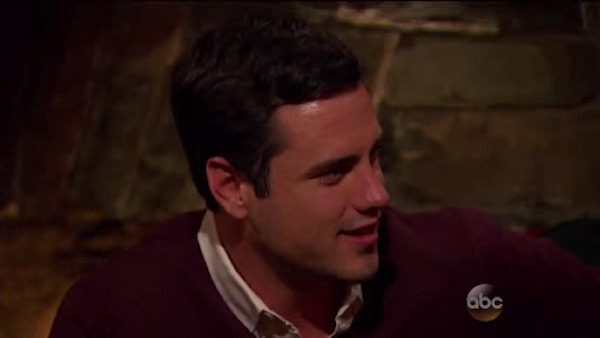 It's like he doesn't even know Kaitlyn AT ALL. 😉
I think most of the ladies watching sighed and swooned.
But not our bachelorette.
Nope.
#homegirlwantstowiggle
And then y'all…she looks straight at him and asks "Are you a virgin?"
I think my eyeballs might have popped out of my head in horror.
He looks back at her with puppy dog eyes and in the absolute cutest and most precious way possible says a simple "no".
For real.
Imagine a puppy dog or a wittle bitty baby bunny rabbit (that's for you Erika) admitting that he isn't a virgin.
That's what it looked like.
It was one of the cutest things I've ever seen.
And although I've always thought Peter was cute and nice, I'm now rooting for the guy big time.
Even though I know he has NO shot.
Still.
I like an underdog.
Or underpuppy as the case may be.
Group Date Card.
Who: Kentucky Joe, Gosling, Nick
What it says: Let's let our love run a-muck.
Kaitlyn meets up with all 3 guys at a castle.
Gosling (although I've had several readers point out to met that he looks more like Alf! Hysterical.) takes her away first. For the record, I don't know how somebody can simultaneously look like Ryan Gosling AND Alf, but Shawn does.
They kiss, and he feels better about them as a couple again.
Nick and Kaitlyn sit down together.
And I'd like to tell you what was discussed, BUT I HAVE NO IDEA.
I understand maybe about 20% of what is said.
They are mumbling, Nick is covering his mouth, AND I NEED SUB-TITLES!
I do catch once again that Kaitlyn doesn't feel guilty about sleeping with him.
Yeah Kaitlyn, we know.
Kentucky Joe finally gets some alone time.
He starts kissing her, and although the rest of the world reads her cues that she does not want to be kissing him, he sadly does not.
He continues to kiss her and then says….wait for it…
"I want to kiss you for the next 60 years. I love you Kaitlyn, and there's no denying that."
She looks at him for like the next 45 minutes (I don't even think I'm exaggerating) without saying anything and then she finally says "I'm taking in what you're saying."
#uhohjoe

She tells him that she doesn't think they are on the same page right now.
She says "I can't imagine saying bye to you".
But in the very next breath she says bye to him.
And then the guy that 90 seconds ago declared that he wanted to kiss her for the next 60 years
is all, "That's cool. no problem".
She says "Are you upset with me?"
He says "No. Not at all. Why would I be upset?"
She asks for a hug, he gives it to her, and then there is some angry mumbling between the two of them. AND I AGAIN NEED SUB-TITLES!
All you need to know is that in 1.5 seconds Kentucky Joe went from I'm crazy in love with you to
I want to stab you in the neck because you don't love me back.
The transformation happened right before our very eyes.
He went all serial killer on us.
Exhibit A your honor.
This I believe is what they call probable cause.

And correct me if I'm wrong, but I think Joe's hair height is directly proportional to how ticked off he is. I believe it grew at least an inch while on the bench.
Kaitlyn goes back to Gosling and Nick and tells them that she sent Joe home.
She says she doesn't feel like giving either one of them the rose, she'll see Nick at the next rose ceremony, but that she wants to see Gosling again that night.
And Gosling is DOWN RIGHT GIDDY about that.
#littledoesheknow
So that night she meets up with Gosling.
And Kaitlyn is a ball of nerves.
Gosling isn't at first.
In fact, when she is stumbling all over her words, I'm 99% sure he thinks
she's about to tell him that she's in love with him.
She starts with "I don't even know how to say this, I just know that I want to be honest with you and I know that your biggest thing is trust. I haven't talked to anybody else about this I just know that I want to talk to you about this because I don't want you to find out later."
Now, before we go on, let's all remember, she's told us 42,372 times that she doesn't feel guilty. But then she says this:
"You know I had that 1-on-1 date with Nick? At night we went back to my place and I just feel like it went too far. And it's hard for me to admit it, but we had sex."
Lots of silence.
I would say that nothing has ever been more awkward, but let's recall Kentucky Joe's goodbye.
Gosling finally speaks, and when he does, he says "Do you regret it?"
GOOD QUESTION GOSLING!!!!
But as watchers of the show, we all know that she in fact DOES NOT regret it.
Because she's told us that. No less that 43,373 times now.
But here's what she says:
I felt guilt. I didn't expect that to happen and then when I woke up in the morning, I couldn't stop thinking about what that might do to our relationship.
Kaitlyn THAT RIGHT THERE IS IN FACT regret.
Finally.
Gosling asks for a minute to regroup.
I imagine him locking himself in the bathroom, looking in the mirror, having a little self-talk about keeping his head in the game, and possibly applying more hair product.
We do know one thing for sure. He was unable to tinkle.
He also seems to "regroup" by re-tucking his shirt over and over and over again.
When he returns, he says the following,
"Thank you for telling me that. I appreciate it — I appreciate the honesty. Am I upset about it? Yeah, obviously. Because I told you I was falling in love with you and you just told me that you spent some extra time and went too far with a guy that you know that I've already expressed my thoughts and feelings about him… I don't want to make this about him…
At the end of the day, I'm here for you and you're the only thing I want out of this. So, I'm just going to man up and deal with it and fight through it and get past it and then move onto tomorrow. I think you're worth it. That's the only reason I'm still here."
WHAT?
GOSLING!!!!!!!
ALF!!!!!!!
That's all you got?
I must say I'm surprised. I thought he would stand his ground a little more.
But, let's be honest everybody, he is on a reality dating show.
And because of this, the above is really the only reaction that actually makes sense.
So, good for him for recognizing that.
That's a very mature stance coming from an Eskimo brother.
More on that in a minute….
We're an hour in, and it's finally time for the cocktail party and rose ceremony.
Sweet Mercy.
Harrison walks in and lets everybody know they are going straight to the rose ceremony because Kaitlyn has already made up her mind.
#ofcourseshehas
And then Harrison loads them all up in what looks like a hayride to get them to the ceremony.
Who gets roses?
First called: Shawn
He walks up to her, BUT WAIT.
He says "I need to talk to you."
And the breath is straight up sucked right out of Kaitlyn's body as she says "okay".
He escorts Kaitlyn and her disco ball dress down the hall.
He opens up "with I did a lot of thinking last night and had a rough time sleeping."
He "understands that there are other relationships and connections..but he doesn't understand why with HIM (Nick)." If she told him that she thought he was the one (which she admits she did), he wants to know why she jeopardized that.
She said "I'm here to explore other relationships and I had no business telling you that you were the one half way through."
Again, FINALLY!
YES!
That was a MAJOR party foul on Kaitlyn's part.
She tells him she loves that he cares so much but that he needs to let her figure things out.
In a camera interview he says as many doubts as he has, he "can't give up on that girl."
He accepts the rose.
The next rose goes to Peter Brady.
And the final rose goes to Nick.
Which means that Jared is out.
He immediately gets a little teary, says good-bye to all of the guys, and then walks out with his head held high and all the class and charm in the world.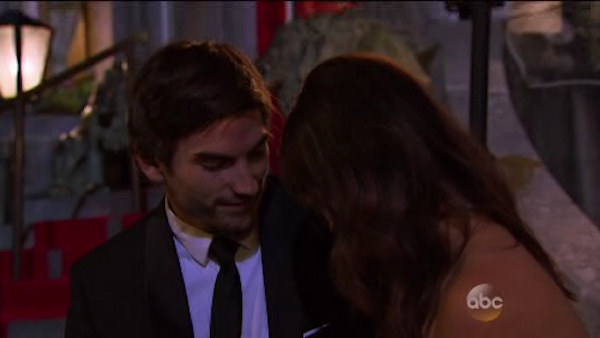 Jared says , "You're a wonderful person and I'm really glad I met you….I want you to be happy."
AND NOW I LOVE JARED TOO!
And I feel like it must be noted that THAT is how you leave.
I'm looking at you Joe.
Now it's time for the fantasy suits dates.
And we start out with Nick.
Let's call this Nick's Fantasy Suite Date: The Sequel
They start out by hanging out and talking in a church.
Kaitlyn tells the camera that her relationship with him isn't just physical, it's spiritual too.
I think somebody needs to tell our bachelorette that making out in a church does not a spiritual relationship make.
They go hang out at a pub, and Nick tells us about his first church confession with a priest.
And I'm not going to talk about it BECAUSE I CAN'T EVEN.
And neither can Carly.


They hang out with some locals at a pub, ask some older guy about marriage, and talk about their thick accents and how they are hard to understand. Said the two people who need sub-titles.
They then head to an old Irish jail.
And this is where Nick throws Gosling under the bus. He says that Gosling has bragged that he's "eskimo brothers" with a famous country singer.
Um.
Even our super progressive bachelorette has to ask what that means.
If you don't know what "eskimo brothers" are, welcome to the club.
But I'm going to tell you what they are because I feel I can do so in a kinder and gentler way than you would find if you googled it.
If you watched the show last night, Nick explained it and I JUST ABOUT DIED.
Basically, Nick is claiming that Gosling said he and some other dude (who happens to be a famous country singer apparently) were both "with" the same woman in one night.
(Just to be clear, to be eskimo brothers, one of the brothers does not have to be a famous country singer. That was unique to this situation apparently. You know, just an added bonus.)
I'm guessing most of America looked like this when being schooled on the term.

They open the note from Chris Harrison with an invite to a fantasy suite.
Hmmmmm.
I wonder if he'll take her up on it?
JK.
She takes him into a jail cell with a damp mattress on the floor and tells him that is their fantasy suite.
He's all "Whatever. I can do this wherever."
Wait to be a good sport Nick.
But she's of course just kidding, and they head to a fancy schmancy hotel suite for sexy time.
Again.
#beentheredonethat
The next morning it shows them eating breakfast together. Kaitlyn is in a robe and Nick is shirtless.
For some reason, this feels more intimate than some of the make-out scenes we've seen heard.
I do have to say, they look and act like a real couple.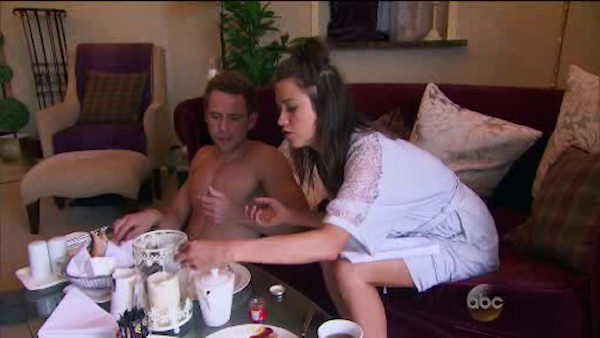 We end the episode by watching Gosling call the front desk to ask for Nick's room and then heading over there to confront him.
They both spew reasons why they hate each other.
And they both have good points.
But guess what…..
TO BE CONTINUED.
Ugh.
During the credits we get a quick update on Britt and Brady.
They are about to go back to their respective states, but they are both hopeful that they are going to be able to continue the relationship.
Does anybody else get the feeling that they shot their entire relationship over like a 2 hour period?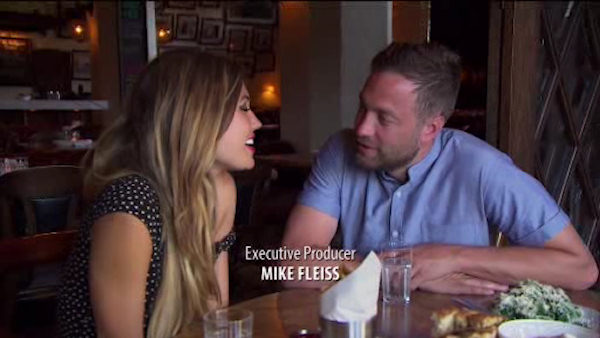 Don't forget to come back EARLY tomorrow morning (maybe even late tonight!!!!!!!) and Friday for me to guide you through the Nordstrom Anniversary Sale!
WISH ME LUCK!!!!!!
xoxo,
Sheaffer 🙂
p.s.
Bachelor in Paradise starts next month.
And you should know that during the previews I squealed AND CLAPPED.
It's gonna be good.