Well, after a long break, IT'S GO TIME LADIES!
It's BEN too long.
Get it? 🙂
For those of you that are new here, I've been doing Bachelor Recaps since Emily Maynard's season because that's when Sean was on…and Sean
is one of my besties'
brothers!
Click
HERE
if you want to scroll through some of my Bachelor recaps of yesteryear.
Click
HERE
to scroll through old Bachelorette recaps.
So this year we get to follow sweet Ben on his journey to true love.
Let's take a moment to walk down memory lane and refresh ourselves on who Ben is.
Ben is the guy from Kaitlyn's season who feared he was unlovable.
Bless his heart.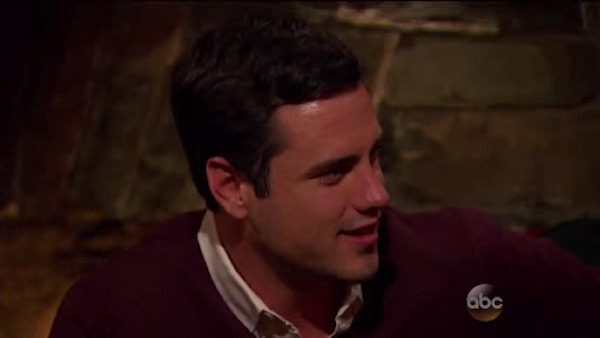 If you recall, I referred to him as Peter.
Because this.
Homebody looks EXACTLY like Peter Brady.
And just fyi, when I went back to my old post to grab the above picture, I saw that I had written the following:
"But here's the deal, the "I fear that I'm unlovable" line might have just clinched a spot for possible next Bachelor material."
#icalledit
Now, if you remember, Shay and I went to the Men Tell All HERE and I got to see Peter in person.

And if he hadn't already been picked as the new bachelor then, his "aw, shucks" demeanor at The Men Tell All taping surely clinched his role as leading man.
So…..WHO IS BEN?
Ben is 26 and from Indiana.
He's looking for love.
And most importantly, he's AS CUTE AS A BUTTON.
He takes us on a little tour of his hometown where he was Mr. Everything and he still likes to go back and visit his teachers.
#cuetheoohsandahs
His biggest fear is being alone.
(Sidenote: my biggest fear is happening right now because just yesterday I started my journey to swimsuit season. Yes, again. Sigh.)
Chris, Sean, and Jason come to sit down and have a conversation with Ben.
And I mean this in the nicest way possible, but was Jason this geeky when he was the bachelor?
#mentors


Now it's time to do the hometown introductions with a handful of women.
Lauren's the first girl we meet, she's a flight attendant, and I want her body.
I like her, I think she'll go far.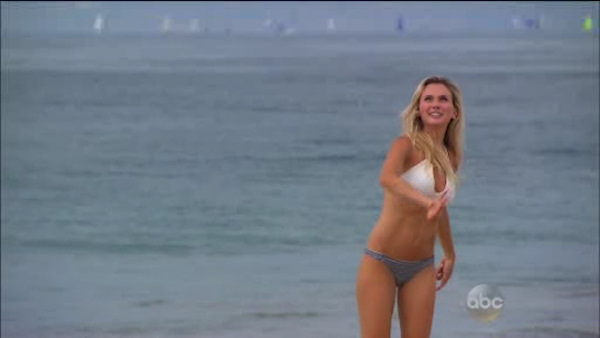 Caila is adorable and seems like the perfect girl to take home to mom.
However, she admits right off the bat that she broke up with her boyfriend after just seeing Ben on t.v. She might be a little off her rocker, but only time will tell.


I'm scared of Jubilee.
But Mandy the dentist scares me more than Jubilee. She seems certifiable.
But the level of annoyance radiating from these two scares me the most.
#quittalkinginunison
#quitplayingpattycake
#quitholdinghands
#quitthinkingyou'rethedoubleminttwins

Next we meet Amanda, a single mom of 2 kids. That's right, TWO!
A contestant with 1 kid is soooo 2014.
And then we meet Tara. Tara is a "Chicken Enthusiast". That's a direct quote.
That chicken on her shoulder? Well, her name is Sheila.
And that's all I have to say about that.

On further thought, I guess it's good to be passionate about something.
Are you ready ladies?
It's time to wet down the driveway for the Parade O' Crazy!!!!
The first limo pulled up, and first out is Lauren, the flight attendant.
She seems genuinely sweet. She gives him some wings to symbolize the journey, and I like that she's memorable but not over the top corny.
Caila is out next, and she takes a running start and leaps into his arms.
Doesn't she know she's supposed to straddle him?
Sequined dress be damned, straddle the bachelor Caila!
#rookie

Now THIS is how it's done.

Jubilee steps out of the limo in a dress cut down to her belly button.
She tries out a pick up line on him, except it's more like a pick up thesis.
Less is more, Jubilee.
Lace steps out of the limo and gives him his first kiss.
And I don't know if I mentioned this, but her name is LACE.
And she's wearing lace.
And spoiler alert: Ben should probably go out and buy some mace.

Sushanna shows up and speaks to him in Russian.
Does she even speak English?
Then Emma Stone got out of the limo!
I loved her in The Help.
Leah hops out of the limo in a sparkly dress that looks like it might be from the costume department at Dancing With The Stars. She leans over, pulls her dress between her legs, and hikes the football to him.
NO M'AM.

And then a unicorn gets out of the car.
It was magical.
Except the opposite of that.

Lauren is a kindergarten teacher and introduces herself to Ben buy throwing him a bouquet that she herself caught at a wedding she went to last week.
And all I can think about is the fact that she has a classroom full of kinder baby parents that are watching. I hope she keeps her school's code of conduct in mind.
#yourprincipaliswatching
Then the scary dentist gets out of the limo with a big flower on her head and makes a joke about getting pollinated.
Listen here Missy…Ben is not going to be pollinating any flowers just yet.


Then the twins emerged from the limo.
#twintestants
And according to the intern who writes the names, ages, and occupations on the screen,
apparently being twins IS THEIR JOB.

Maegan moseys up to the corral with a miniature horse.
And we all know that this cowgirl doesn't stand a chance.
#don'ttakeoffyourbootsMaegan

And stop me if you've heard this one, but a pair of twins, a russian, a unicorn, and a miniature horse head into a mansion…..
Breanne bounds up to Ben. She has a picnic basket and starts spouting rhetoric about how gluten is the devil. They destroy all of the baguettes in her basket.
Uh huh….yeah…go ahead and pass me the baguettes Breanne.
#ilovegluten

Isabel emerges in a onesie…because get this, she wants to find out if "he's the onesie for her."
Spoiler Alert: He's not.
Rachel shows up on a hover board, and the mom in me came out because I found myself strangely panicked that she was going to either fall off and break her coccyx or spontaneously
burst into flames.
Safety first Rachel.
The Chicken Enthusiast arrives and seems strangely normal!
WHY IN THE WORLD DOESN'T SHE HAVE ONE OF HER CHICKENS?
#poorSheila
I'm starting to lose a bit of interest at this point, so the next several girls get bullet points.
*Lauren is a fashion buyer and she's gorg.
*Jackie is a Geronologist. Whatever the heck that is.
*Olivia is a news anchor.
There were some others along the way, but I was distracted.
And then Harrison slides in and totally tells a "….walks into a bar" joke.
#dang
#ithoughtiwassoclever
So here's Ben with his crazy lot of ladies.

And there is all sorts of squealing when he enters the room.

He barely has a word out when the crazy dentist stole him away because apparently he is due for his semi-annual oral exam.
She checks his teeth, she checks his gums…..


and then she finishes up the appointment by sticking her tongue down his throat.
It reminds me of this Friend's episode.
***********************************
Cut back to the wet driveway…
Amber and Bekkah (both on Chris Soules' season) get out of a limo.
Amber says "like" around 2,300 times.
We all know Becca…and I know that I'm supposed to know Amber, but I don't.

And this is how the other ladies feel about Amber and Becca joining the show.
So this is Olivia, and she is telling Ben how she left her news anchor job to come and find love.
Two things:
1) NO PRESSURE Ben. But she left her awesome job so she can marry you.
2) Don't play Olivia. We all know you are just trying to get a co-hosting gig on E News.


Ben sits down with the twintestants….and I have a flash…
Could the Bachelor puppeteers please please PLEASE make these girls go on a 2:1 date?!?
I mean, that would be horrible. And AWESOME.


Lace tries to talk Ben into kissing her (at least I think that's what she is trying to do, because I don't understand at least 90% of what she says…OPEN YOUR MOUTH WOMAN!), and then the crazy dentist comes back to steal him away again.

Lace is TICKED OFF, but when Ben comes to find her afterwards to give her some attention, she lets us know that she enjoys that by cocking her head to the side and licking her teeth.
Which is the universal sign for I think he likes me.


Harrison comes in and drops off a rose.
And everybody starts freaking the freak out.
Ben walks in just a bit later to get it, and gives it to the future host of E News Weekend.
So now she has a rose. And a target on her back.
Lace starts telling people how angry she is because Ben hasn't even looked at her.
She said she wants her mommy, and I want mine too, because this face terrifies me.
I'm thinking that Lace is this season's Kelsey.

Who gets roses:
Lauren B (flight attendant), L.B. (fashion buyer), Caila (girl who left her boyfriend), Amber (bartender from Soules' season), Jamie (Canadian girl), Jennifer, Jubilee (war veteran), Amanda (mother of two), JoJo (unicorn head), Leah, Rachel (hoverboard chick), Samantha, Jackie, Haley (one of the twins), Emily (the other twin), Shoshanna (the Russian princess), Lauren H (kn teacher), Becca (from Soules' season), Mandy (the CUCKOO DENTIST! WHAT?), Lace (HUH????????)
Who goes home:
The Chicken Enthusiast
The Mini Horse Lady
Emma Stone
girl in a onesie
Gerontologist that gave him a save the date card
The Lady That Hates Gluten
I bet you money that the chick that hates gluten got in the limo and ate some saltines, a couple of hamburger buns, and ordered a pizza.
And just when you think Harrison is going to run the sneak peaks of crazy we are going to get to see throughout the season….
Crazy Lace calls Ben aside and expresses her concern with him that he didn't make eye contact with her. And this is how Ben (and the rest of the world) feels about it.

So that's it for the Season Premier!!!!!
What did you girls think?
Who are your favorites?
Sound off in the comments!
xoxo,
Sheaffer 🙂
OH WAIT!
Before you go, I made a new collage last night of
items STILL ON SALE!
I love a layered sweater with jeans and booties and there are some amazing deals!
layered sweater pink earrings / bar pendant / kate spade watch
tomboy skinny jeans / suede bootie
foldover bag / tote / hobo bag
If you noticed in the above collage, the bar pendant is BACK IN STOCK!
Here I am in it in case you want to see how it looks in an actual outfit!
similar boyfriend cardi ON SALE / similar white tee / similar jeans ON SALE/ similar shoreline converse


And I made this collage for facebook over the weekend,
and everything is still on sale!!!
boyfriend cardigan / blouse / jeans / earrings sold out 🙁 / necklace / tote / bracelet / flats
HAVE A GREAT DAY LADIES!!!!!