It's Bachelor Recap Time Ladies!
Tell your hubbies to sit tight, put the children on their ipads (Oh, I kid. Kind of.), and get ready to relive all the drama and awkward from Monday night!
If you missed the Season Premier recap, click HERE.
You want to make sure you are totally caught up on all the crazy.
As the show opened, I couldn't help but wonder if Tara was at home making out with her chickens and if Breanne was stuffing gluten laden treats in her face. Let's hope.
So this week opened up with girls smiling and screaming in unison "Ben, we're coming for you" off a balcony. Only time will tell how many more weeks it will be until Ben is hanging over that same balcony and crying a la Jason Mesnick.
In the intro, the producers also "treated" us to a shot of Ben putting on his pants one leg at a time (he's just a regular guy you know), but I could have done without the close up of his bright blue panties and man parts.
The girls are at the mansion and the 1st date card arrives.
What the date card says: Let's learn how to Love.
Who is going:
Jackie, L.B., Lauren H., Becca, Amber, Mandy, JoJo, Jubilee, Jennifer and Lace.
I always love it when the girls act like they are excited when their named gets called for the group date. Girls, you're not fooling anybody. We all know that you're dying on the inside.
The limo full of 10 girls rolls up to a high school with a "BACHELOR HIGH" banner greeting them.
If this is going to be an authentic high school experience, I'm guessing there's going to be some Strawberry Hill and Zima for the girls afterwards.
#sorrydad
#gottaloveBoone'sFarm
Chris Harrison is the principal and describes the curriculum for the day.

Fingers crossed the first class of the day schools Mandy on her pants.
Because NO M'AM.
Not now. Not in high school. Not ever.
In fact, I'm pretty sure half of these girls should have been sent home for dress code violations.
I'm looking at you Amber. Your shorts need to be below your fingertips young lady.

If the Bachelorettes were really attending class, here are some lectures that I think would be useful:
*Don't Kiss and Tell.
*How to Sleep with One Eye Open.
*How to just act like you're drinking so as not to make a total
jackwagon of yourself on National t.v.
*When to share deep dark secrets from your past to maximize making out potential.
*How to kiss when thrown up against a wall. (Taught by Arie of course.)
And my favorite:
*The Power of a Well-Timed Panic Attack.
So back to the "Bachelor High" date.
1st Period: Science.
The teams that make Ben's volcano explode (pun VERY MUCH intended I'm guessing) will move on to the next class. Lace and Jubilee were eliminated, and I'm thinking it took everything Jubilee had to not pull her concealed weapon on Lace for reading the directions wrong.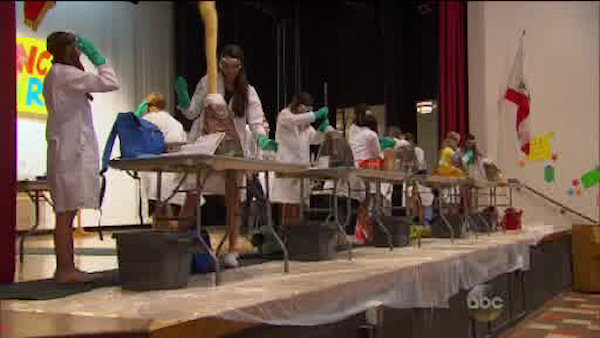 2nd Period: Lunch.
They had to bob for the red apples and put them on his lunch tray without using their hands.
Lots of mouth jokes were said. Insert eye roll.
Jackie and Lauren H. were eliminated.
(Sidenote: those look like Red Delicious. Yuck. Only Honeycrisp in our house.)
#honeycrispordie

3rd Period: Geography.
The girls had to find a puzzle piece representing the state of Indiana and then place it on the map where it should go.
And y'all.
This is what Becca and JoJo did.
Junior high geography teachers everywhere were shaking their heads.


Listen.
If I had to do long division on national t.v., it would have ended up similarly.
4th Period: Gym.
Two teams left.
The first team that has both teammates make a free throw gets to move on.
Mandy and Amber won, but because there can only be 1 Homecoming Queen (I guess this is the season that does in fact have rules), the two remaining girls had to jump hurdles.
It was Mandy against Amber.
And Mandy SMOKED her. She jumped those hurdles and ran through the spirit sign LIKE IT WAS HER JOB.
So Mandy was crowned Homecoming Queen.
Mandy hopped in a convertible with Ben wearing a tiara and letter jacket, and they rode around the track while all the other girls shot her death stares and secretly wished she would fall out and sustain a concussion that would make continuing on with the show impossible.
That night the girls from the group date gathered with Ben on a hotel rooftop, because BACHELOR.
Becca takes him aside, they shoot some hoops, and Ben seems to be genuinely excited that she's there (in between when he's blaming his tight shirt for the fact that he keeps missing his shots).
She also basically tells him that she's in it to win it.
Jennifer and Ben have some alone time and immediately start kissing.
And then she goes back to the group and tells them that they kissed.
Dang, girl.
Now everybody hates you.
Somebody wasn't paying attention in class.
Lace goes and steals him away from the homecoming queen.
She starts with an apology for how she reacted the night before.
And her apology makes her seem even crazier and even scarier, which was hard to do.
Stop it Lace. Just stop it.
Jubilee comes and steals him away from Lace. She tells Ben that she is from Haiti and is adopted. And then they kiss.
And you know how she feels about that?
Jubilant.
I had to.
The other girls are back on the rooftop sofa and Lace is complaining how she hasn't received enough 1:1 time. And everybody is HIGHLY ANNOYED at Little Miss Lace.
Well, Lace isn't going to let the other girls get her down (NOBODY stops crazy), so she goes to steal him away again.
She walks up and says "I'm not crazy, I just need another minute."
Here's a tip: If you are legitimately not crazy, you will probably never start a sentence like this.
And it was then that I realized that I had left a very important class off the schedule:
*How to not appear crazy even when you clearly are. Taught by Kelsey.
Lesson 1:
NEVER say "I'm not crazy." because it's a clear indicator that you in fact are. Crazy.
Speaking of Kelsey….hurry Lace!…now would be the perfect opportunity for one of those well timed panic attacks.


Ben took JoJo to an even higher rooftop, and there was lots of hair twirling, some eye batting, and lots of kissing. She said she has "literally in her entire life never felt this happy before."
I had a hard time concentrating on their date because I was just admiring her side boob.
Ben gives the rose to JoJo and her side boob.
The date card arrives back at the mansion, and Olivia is so sure she is going to get the individual date. And y'all, right before our eyes she transforms into a howler monkey
These were screen shots of her excitement at hearing the date card read.
I know.
I'm not sure what's wrong with her.
Somebody should probably call a doctor.
Or a therapist.
Or the people at Guiness.
Well, Olivia did not in fact receive the 1:1.
And this was her reaction.
Quite the transformation.
Caila got the 1st 1:1.
The date card said: Join me for a day of surprises….
So Harrison shows up and let's everybody know that the date is going to have a couple of guests.
And you'll never guess who.
Seriously, you would never guess who.
Kevin Hart and Ice Cube.
Huh?
Well, they are HUGE Bachelor fans and just wanted to be on on the show.
Just kidding.
Their new movie Ride Along 2 is coming out….
so they are going to tag along for a ride along with Caila and Ben.
Kevin tells Ben that he should take Caila on a cheap date just to see how she will react.
But here's the deal..NOT A ONE OF THEM IS WEARING A SEATBELT on the ride along!
Harrison! Take better care of your children!
SAFETY FIRST PEOPLE!
And girls. Be honest. Am I losing my ever-loving mind or is Caila wearing our beloved BP studs?
(Only white available now HERE.)
The"cheap date" ends at a hot tub store.
It was funnier in theory than it actually was.

That night they had an intimate 1:1 dinner that looks that it's taking place in a quaint little Italian restaurant on the set of Sesame Street or something!
Caila is very well spoken and I like her a lot.
She gets a rose.
They walk up to a theater with their names on the marquee…and then get this….they are treated to a private concert.
I know.
Shocking.
#thisisafirst
Caila and Ben were cute together, but what was even cuter was that it seemed Ben was having a serious fan girl moment over Amos Lee. (Fyi: just like Caila, I had no idea who this guy was. However, I did like his music.)
The next date card arrives.
What it says: Are we a perfect match?
Who's going: Emily, Shushanna (do we know yet if she speaks English?), Sam, Olivia, Hayley, and Amanda
The girls show up at a Love Lab.
Apparently, they are going to conduct several experiments to see who is best matched for Ben.
Gotta love Science.


First they do a retinal scan to see if their eyes stay longer on pictures of Sean or Ben.
Then they test pherimones.
And get this..they do this by making them work out….


and then having Ben smell them all.
No, I'm not kidding.
He had to sniff them.
I would have been mortified, but not our girl Olivia.
Olivia was strangely PUMPED. I'm thinking she was sure she was going to smell like a wife.
And you can act like the guy in the lab coat is not somebody they just grabbed off the street, but I won't believe you.
Ben was throwing out words like "sweet" and "flowery".

But then he got to Samantha and told that she smelled "sour".
I would have DIED.
DIED!
I. WOULD. HAVE. DIED.
Then they had to sit on a bed….really close together but not making out….and they were going to watch the heat between their bodies.
I'd be all "SOMEBODY GET ME A BLARDIGAN!"

Olivia "wins" the group date with a score of 7.4. (poor Sam only scored 2.2) and this is how Olivia feels about it.
That night they have the cocktail party for their group date, and Ben steals Olivia away first and they kiss…..which garners this next reaction.
I mean. This is getting ridiculous.
Coincidentally, that's how I feel when somebody asks me to go eat tacos.
#tacoface
Amanda finally gets to tell him she has kids, and he handles it perfectly.
And then they kiss.
I do want to take a minute to mention the jewelry on the show tonight.
The twins love them some Kendra Scott. At one point, one of them was wearing THIS dainty and sparkly Kendra Scott necklace, and one of them (don't ask me which one) was wearing THESE big black stunners. Amanda was wearing Alex and Ani bracelets, and Sam was wearing a Stella and Dot engravable necklace.
And nobody was wearing THESE last night, but they should have been.
**********************************************
TIME FOR THE COCKTAIL PARTY!
Leah and Ben have a little bit of time together, but Olivia pulled him away (EVEN THOUGH SHE ALREADY HAS A ROSE), and everybody is HOT about it.
Olivia comes back to the group after her time and announces "Now, I'm done. Now everyone can have at it, and I hope you can respect that."
Lace takes Olivia aside and tries to verbally spank her.
As if Olivia cares.
Nothing is standing between her and co-hosting E News with Mario Lopez Ben.
Lace gets some time on a balcony with Ben, and even though she scares me, she looks smokin' in her dress. She starts telling stories (something about having bad bangs and nobody wanting to sit with her on the school bus?!?), and Ben's eyes start totally glazing over.
And I'm all, "Lace, EVERYBODY has a bad bangs story."
But seriously Lace, OPEN YOUR MOUTH WHEN YOU TALK WOMAN!
I'm hoping Olivia might be able to mentor Lace in this area.
In a 1:1 interview, Lace is crying and says "The Lace I promised myself I would not be, came out."
Sheaffer really hates it when people talk in the 3rd person.
The cocktail party continues, and Ben does a really great job making several girls feel special.
He gives Leah a picture of them the first time they met (which was I think around 27 hours ago).
He gives a 1st place ribbon to the Kn teacher for the biggest Volcano explosion.
And then, y'all, he tells Amanda that he wants to go ahead and start getting her girls involved in the process. And he had a hot glue gun, some plastic flowers, and some barrettes and they made barrettes for her girls together.
If that was really Ben that thought of that, well then WHOAH.
What a sweetheart.
If it was an intern, give that one a raise!
Time to start handing out those roses.
Who gets a rose:
Caila and Olivia already had roses.
Amdanda (mom of 2), Jubilee, Lauren B (flight attendant), Leah, Becca, Rachel, Lace (HUH? WHAT THE FRACK?),
He calls L.B.'s name and she asks to speak to him in private.
Homegirl can't handle it and is all peace out.
He was very gracious about it, and I respected him for how he handled it.
The remaining roses went to:
Jennifer, Emily, Jamie, Lauren H., Shoshanna, Haley, Amber
Who goes:
Mandi (crazy dentist), Jackie, and Sam (smells sour)
Well, that's all for today ladies.
I'm interested in what you think some other Bachelor 101 class titles should be.
Leave your ideas in the comments!!!!!
xoxo,
Sheaffer
Before you go…..I got this in my inbox yesterday….
LOTS of items are now up to 50% OFF at Nordstrom.
The jacket she is wearing below is 40% OFF HERE.
And I love the bright and cheery vermillion MK puffer found HERE.
And just FYI, THIS leather jacket that I talked about in the Joanna Gaines Told Me To post has now received RAVE REVIEWS from 3 separate readers. And it's 45% OFF.
And THIS pea coat is now 50% OFF and under $30, make sure you order a size up.

Another item that has been further reduced are THESE skinny cords.
You can find the same brand (but boot cut) HERE (sizes and colors remaining limited).
I ordered a regular 4 myself in the skinny version, and they fit everywhere, but they were reallllllly long, which is great news for you tall girls. I immediately hopped online and ordered myself a 4P, so fingers crossed they will be perfect!
Click HERE to see my facebook post where lots of ladies commented on their love for these pants if you want to hear a little more about them.
Ladies even as tall as 5'9″ said these pants worked great for them!
Also, several colors of the Felicia flats are 30% OFF, but sizes and colors are going fast!
I'm thinking this happy pink would be so fun this spring!
If you remember, the Felicia flat ranks in at #1 on my comfort scale!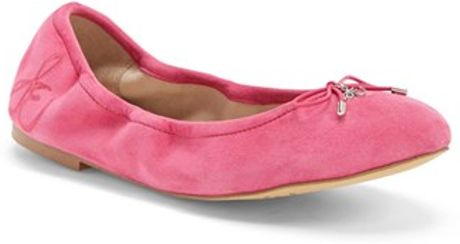 And
THESE TALL FRANCO STUART BOOTS
are 45% OFF and GORGEOUS!
And look at
THIS
pair. Also 40% OFF, making them right under $90!
Okay, now I'm done.
😉