I'm sooooo sorry, but I just couldn't get the Bachelorette recap done for today.
However, I have been working on it, and it will be up on the blog Friday morning.
Sorry for the delay!
~~~~~~~~~~~~~~~~~~~~~~~~~~~~~~~~~~~~~~~~~~~~~~~~~
Okay Girls.
Besides the Anniversary Sale which is happening in July (which I had a dream about last week…I'll have to tell you about it sometime…but it solidifies the fact that I'm 100% INSANE), this is the biggest sale Nordstrom does for women and kids.
but this is probably as good a time as any to talk quickly about the Anniversary Sale.
If you don't know about it, you need to.
And since it's only 2 months away, I feel like we should all start mentally preparing.
And just fyi, I'm only 1/2 kidding.
😉
The Nordstrom Anniversary Sale happens in the middle of summer, but it's FALL clothes.
I know it sounds weird to be buying fall clothes in July, BUT YOU HAVE TO.
Why?
Because the deals are UH-MAZING.
Like they are stupid good.
And if you're like me, FALL CLOTHES are your absolute favorite to buy, so getting to buy them early for a great price? Yes, please.
The sale starts mid-July and goes thru the first several days of August, and I promise you, I will MAKE IT MY JOB to bring you all ladies the best deals!
If you were around last year, you know I was super dedicated to finding the greatest deals on the best pieces, and this year will be no different. And just like last year, we will do another Nordstrom Score Report where you ladies will send in pictures of your Anniversary Sale Scores and somebody will win a gift card (and not just a $100 one like last year).
It was SO fun to see pics of all of you ladies in your scores!
Click
HERE
if you want to see for yourself what the score report looked like last year.
BUT HERE'S WHAT YOU REALLY NEED TO KNOW.
Nordstrom card holders will get EARLY ACCESS to sales as well as other benefits (ex. free alterations and the ability to earn Nordstrom notes).
What does EARLY ACCESS mean?
Well, if you have a Nordstrom card, you will get to shop a full week earlier than everybody else.
I will be shopping early (OBVIOUSLY), and I will be posting pictures of items that I've found and am loving. However, I will not be able to link directly to those items because if you aren't a card holder, you won't have access.
So here's what will happen.
I will be placing item #s by pictures, and if you're a cardholder, you will type the item # in yourself when you are signed into your account.
And here's why that's important.
Often times, some of THE BEST OF THE BEST DEALS are no longer around once the sale is open to the public.
The best part about opening a Nordstrom card (as far as I'm concerned) is the EARLY ACCESS.
However, you will also rack up points with each purchase and you will start accumulating Nordstrom Notes (basically cash to be used on future purchases)!
**************************************************************
Okay…enough about the Anniversary Sale for now, today is about the 1/2 Yearly Sale!
So…buckle down…apply yourself….and get some great deals today!
Many of the things I'm going to highlight today you've already seen on the blog.
So, you know what that means. I get to use one of my favorite graphics.
I've heard from a lot of you that even though you read the blog everyday, you never buy items unless they are on sale. Sure, that means you miss out on some great items that never make it to sale…but I totally respect the idea of holding out for the deal!
But that means that today you get to JUST GO FOR IT!!!!! 🙂
If you follow me on facebook, you saw me highlighting these next several items on Monday night as I was finding them because I was maybe freaking out a bit at the deals. I was afraid other people would find them and buy them up if I didn't bring them to y'all asap!
Thankfully, there is still PLENTY of inventory left!
AND REMEMBER, IF YOU ARE A CARD HOLDER, YOU CAN EARN DOUBLE POINTS TODAY AND TOMORROW (05/21-05/22)!
Earn your Nordstrom Notes twice as fast!!!!!
******************************************************************
If you want to just look around for yourself, click
HERE
.
Nordstrom has everything divided into categories once you get on their site, so you can just click around once you get on the site.
Y'all.
You won't believe the sheer number of items that are on sale.
If you want help navigating through the thousands of items, you've come to the right place.
I'm your girl.
🙂
First up.
The Rubbish Military Jacket
. FOR $26.98.
SHUT THE FRONT DOOR.
I know.
If you read my blog on Monday afternoon, you might have already seen this, because I added it to my Monday post sometime Monday afternoon after Peggy B. let me know about it. Thank You Peggy!
It comes in 5 colors.
AND IT'S SO FLIPPING CUTE.
And I don't know if you heard, BUT IT'S $26.98.
Click
HERE
for the jacket.
This one is a bit longer than my other military jackets and has a REALLY COOL collar!!!!!
It also comes in black and a wine color!
But in true ME form, I still liked the military green the best. I think it's just more interesting.
Pay attention to the collar in the shot on the right.
It can be open like in the pictures in the khaki jacket above, but it
can also be cinched up (there's a draw string inside the collar) and
it's DARLING all cinched up.
Click
HERE
.
Again, for size reference, I'm wearing a small.
If you already have a green military jacket and don't think it's
practical to add another one to your closet (for the record, you're
wrong)…but if you like the jacket and just don't want it to be green, YOU'RE IN LUCK!
It also comes in black and navy (they just didn't have the other colors in store)!
Click
HERE
.
When I put it on facebook on Monday night, soooooooo many of you talked about how you already had one, but that you loved it so much you were ordering another!
Here are some of my favorite comments:
I love this jacket!! Just took it on a trip to Paris with me and literally wore it every single day! – Alaleh Sadri
Oh man I have the green and khaki! May need the black!!
Amanda Elmendorf
Ok
so at first I was mad I got it at full price, then I remembered I loved
it so much I was gonna get it in Navy too….so I just did!!!! Does a
girl really need four military jackets??? Probably not but they are so
totally and completely different, I'm ok with it! LOL
Katie E Mitchell
I
now have this coat in 4 colors-is that normal?! No willpower obviously
and I adored my navy/khaki ones I originally bought so why not add
another green coat to my closet and you know I have nothing in red so I
HAD to get that one too!
Staci Kissinger Cross
If I've said it once, I've said it a thousand times.
You girls are my people.
I wish I could go shopping with every last one of ya.
I love that so many of you "get" the need for more than one military jacket.
#we'resosmart


******************************************************************
MUST HAVE shirt HERE.
This shirt is probably the most worn item in my closet….especially in the fall, winter, and spring.
It's great on it's own, but it's also great for layering.


I have the burgundy color and the black.
But
although I love both of them, I've found that the burgundy shows too
many wrinkles (as I guess most of the lighter colors do).
I recommend the black because it shows less wrinkles.
I have probably worn it once a week for the last year No lie.
And sometimes I might have worn it twice a week.
It is such a great closet basic.

Again, I HIGHLY recommend black.
Click
HERE
for all available colors.
The shirt runs large.
For size reference, I have an x-small in this and it's still plenty blousy.
I dry clean this shirt, but I have lots of readers who say they wash it
on the gentle cycle and then line dry it. I just prefer to dry clean a
lot of my clothes. They look brand new for so long!
Here are just a handful of you ladies in the shirt.
The cute blonde in the purple shirt is my sister's friend Amber. Hi Amber! 🙂

********************************************************
I've been talking about my Sequin bracelets for over a year now (I got them from several of my besties last year on my birthday), and they are all 33% off right now!
Click HERE for all the choices.
(I know it's only May, but these make great Christmas presents!)
They are perfect to add to your bracelet stack, and mixing and matching colors and
sizes is so much fun! And seriously, you truly can't go wrong when mixing and matching.
**********************************************************
You know I love and adore my WHITE MICHAEL KORS CERAMIC WATCH (see above).
I bought mine last summer at 40% off, and I'm so happy I did.
Even at 40% off it's still quite expensive,
but it's one of those pieces that was just worth the money to me.
Let me give you a little peek into my crazy.
When I first got it, I would find myself staring at it throughout the day, much like I would do at my engagement ring when I first got it. I know, I'm sick. 🙂
And just take a second to let all the gorgeous sink in.
But never fear, if white ceramic isn't your thing, there are lots of other
MK watch choices at 40% OFF!
Click HERE for all 17 of them!
**********************************************************
Next up are my new caged heels and the French Connection dress I highlighted a couple of weeks ago!
And if you remember from when I first posted them,
I have NO IDEA what was on my mirror in this next picture, but I promise I'm not wearing white frosted lipstick.
My French Connection Textured Shift Dress HERE is now 40% off!
For size reference, I'm wearing a 4.
I love how this dress fit and how it was short (but not too short)!
This is the one I ended up going with. It has such a cute fit (I think
it would look good on lots of different body types), and I loved the
length of the sleeves and how the back is a little bit longer.
French Connection FOR THE WIN!
I also love THIS dress with a lace back that's also 40% off! Totally sassy but timeless too!
THESE are the caged heels that are 33% off making them just under $60!
(Not on sale, but just in case you want to know: Earrings HERE/ Collar Necklace HERE
/ Big Teardrop Necklace HERE)
Seriously. Check out my lips. What in the world is on my mirror?!?
Do you see my heels?
OOH. LA. LA.
And guess what? They aren't just HOT, they are COMFY!
No lie. They are the most comfy heels I've ever owned.
*************************************************************
Okay, so that's all of the stuff I've highlighted previously that is now on sale….but if you see other items, please feel free to leave the item #s in the blog comments (because I'm sure I've missed some things).
On to some new items!
My friend Jeni wore THESE to girl's night last night.
She was wearing yellow shorts, a white v-neck, and THESE sandals.
And I'm telling you, DARLING.
They made her regular ol' t-shirt and shorts look AMAZING!
I wouldn't have given them a second thought if I wouldn't have seen her in them.
But DANG. After seeing her in them, I'm not sure I can resist their siren song.
I've received several questions lately about wedges that aren't quite so tall. I found several that are on sale that aren't quite as high.
Click what you are interested in!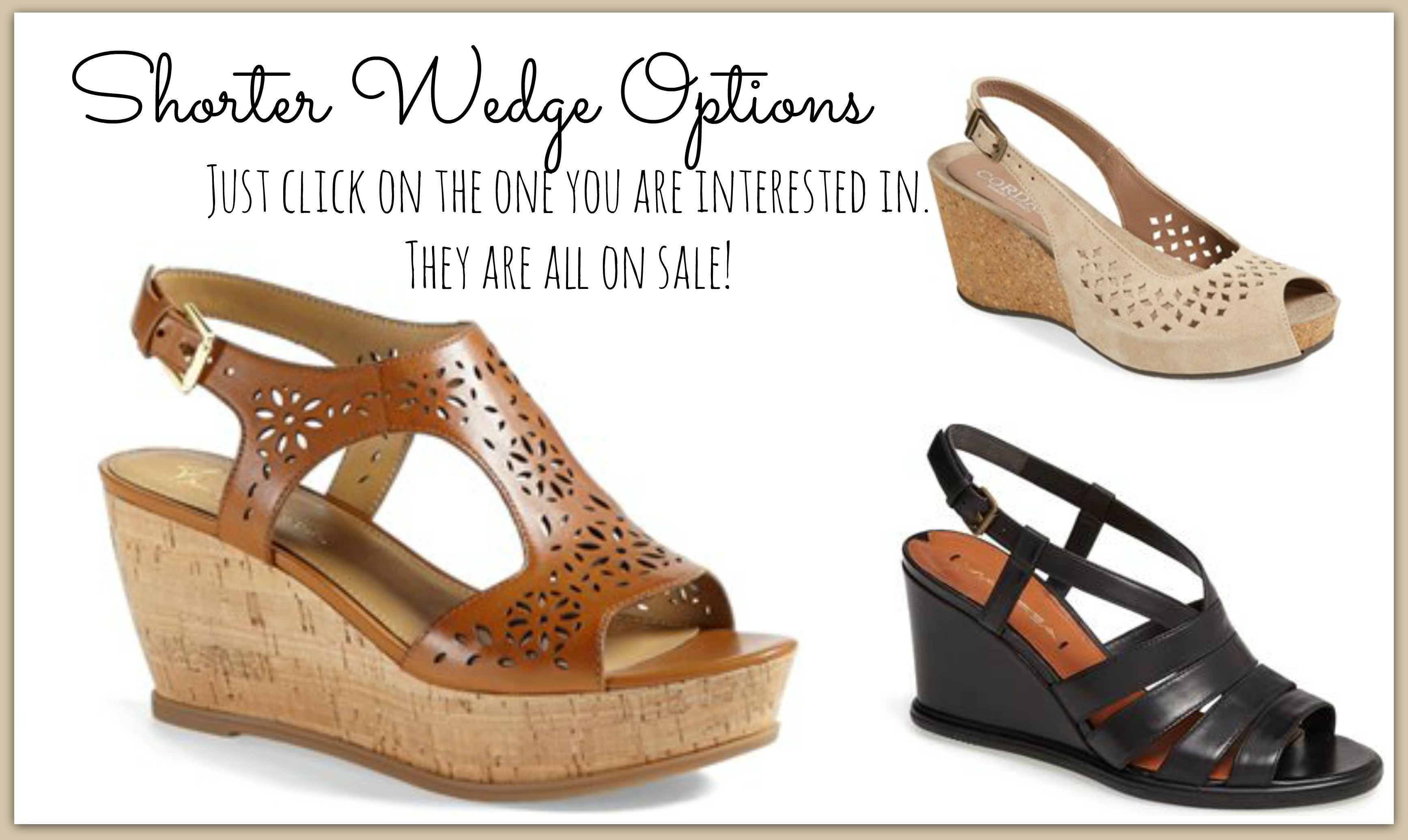 And I've got a couple of more collages for you with some of my favorite picks from the sale.
I've tried the khakis on, and they are a cute fit and true to size. The leopard scarf is under $9, and you know I have to highlight Hanky Panky underwear every single time it's on sale!
And no surprise here, there are lots of stripes going on.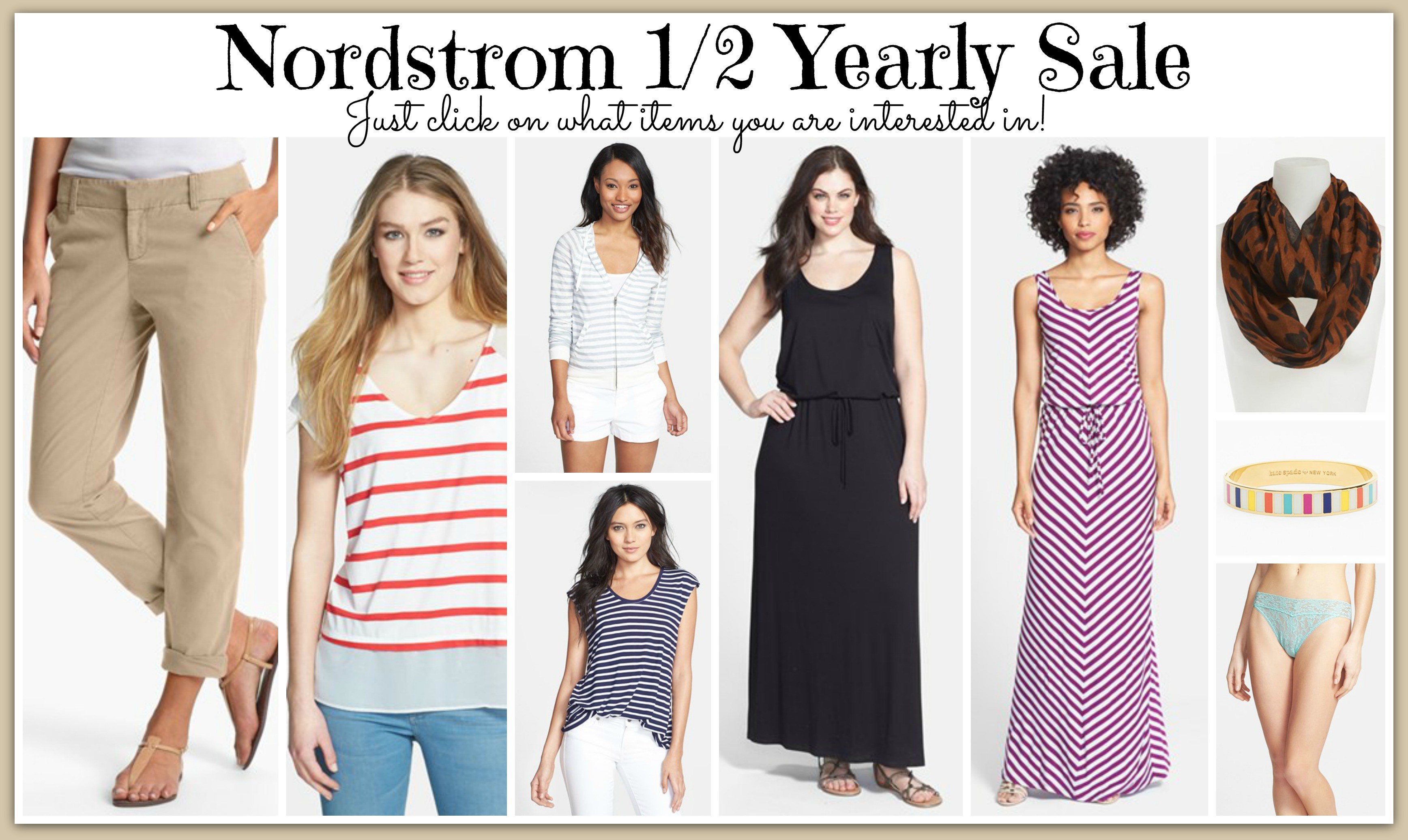 Okay, one more collage!
The 7 For All Mankind jeans are now back in stock. And I'm loving these bag and shoe choices.
Man I LOVE a good sale!
Okay. Before you go, now I have some easy text links to click on if you think you're interested.
*
LOTS of Vigoss jeans 40% OFF HERE.
*
Running shoes HERE.
*
There are even swimsuits on sale!!!!!!! Click HERE for all women's swimsuits!
There are 4 pages of 1 pieces, tankinis, bikinis, and cover-ups!
THIS one is on sale for only $42.88! SO CUTE!
*
Click
HERE
to read about the Clinique Make-Up Deal
AND DON'T FORGET!
It's not just women's clothes on sale, it's kids too!
I just ran out of time to do a really good job of highlighting them.
I do have several text links though!
Click HERE for boy's Boden items on sale. Everything is 33% off!
And if you remember the post I did with Carter (find it HERE), lots of that stuff is on sale!
But from what I hear from you moms of older boys, sooner rather than later my kid that lets me dress him right now is only going to be dressing in Under Armour.
Click HERE for boys' Under Armour on sale. All 33% off!
Click HERE for girl's Boden items on sale. Again, 33% off!
If you have a little girl, you HAVE to check out this line of clothes. It's DARLING.
Kids' Sperry's…both boys and girls…on sale HERE.
Kid's Stride Rite on sale HERE.
And to make it SUPER easy to review some of the deals above, just scroll through and click!
Okay!
That's it for today girls!
Remember, if you think you found a really great item on sale that I missed, please leave the item # and a description in the comments and share your finds with all of us!!!!
Happy Shopping!
xoxo,
Sheaffer 🙂
p.s.
I am doing a Bachelor recap. It will be up tomorrow morning!
Pray for me. 😉